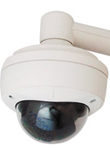 The role of a retail store operator entails complex responsibilities, such as inventory forecasting, promotional planning and on-site security detailing. While security may seem like just another item on the list of everyday operations, security equipment suppliers such as Planet Security USA, remind retailers that it might be the most important responsibility. Every piece of merchandise is an investment that needs protection; "that is why we sell everything needed for a security system to work, from the cameras to the cables, to the digital recorders and connectors," says senior sales manager, Roger Di Pardi.
Planet Security Offers On-site and CCTV Security Solutions
Founded in 2005, Planet Security has established a mission to make security camera installation simple and cheap, especially for independent retailers running a one man operation on a tight budget. "We sell direct to the customer, so they can skip the installation companies that charge a fortune," notes Di Pardi. "While we service a lot of liquor stores, doctor offices and even residential sites, we are a perfect match for any and all independent retailers, from boutiques to convenience stores." A young company in the industry, Planet Security boasts experiential wisdom, as its co-founders bring to the business a combined 20 years of CCTV background (Closed Circuit Television: the use of video cameras to transmit a signal to a specific place on a limited set of monitors). This allows Planet Security to confidently provide tech support and help those with less security knowledge make a decision on the right security camera for their store, considering application, lens type, real-time viewing, remote viewing and more.
Offering everything from dome cameras to infrared cameras and zoom cameras with starting prices at $29 wholesale, Planet Security promises the best security options at low prices, including an all-inclusive package starting at $299. "Soon we'll be one of the first companies to introduce HD CCTV," explains Di Pardi. "The security camera will go from analog signal to high definition, just like your cable TV. It will be cheaper than IP cameras and will have a better resolution." Customers also receive benefits like a 15 day money back guarantee on nearly all items, and Planet Security will exchange or credit the purchase price. There is also free lifetime technical support and consulting; expert consultants help with equipment selection, camera placement, system design, troubleshooting and more. Planet Security also boasts some of the best warranties in the industry, including a three-year warranty on its INOVA line.
No minimum order is required, as customers can purchase directly for their individual needs. "We are located near the port of Miami, allowing us to receive equipment fast and send it fast," says Di Pardi. "We ship out orders the same day they are received, and we always have products in stock."
For more information:
Planet Security USA, Inc.
1936 NW 82nd Ave.
Miami, FL 33126
Toll Free: 800-998-3877
Tel.: 305-455-1722
Website: www.planetsecurityusa.com