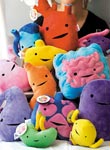 I Heart Guts' plush toys charm customers with their quirky shapes and sayings, including the "I Lung Rock 'n' Roll" lung, the, "I'm a Liver Not a Fighter" liver, and the, "I Ache for You" stomach. "It started with stickers and shirts. People loved the characters and we've had a huge demand for the plush," says company founder, Wendy Bryan. Each plush piece is a grinning caricature of its real life counterpart, and is available in several hues including lavender, daffodil yellow and neon purple. Plush organs and glands sell quickly at hospital gift shops, where they are a popular pick for patients recovering from ailments associated with a particular organ. "We offer a pancreas for diabetics, a mammary gland for breast cancer patients, and a random assortment of other glands and guts," Bryan continues.
The Giant Guts line currently includes 15 of the 32 possible designs. Giant Guts range from eight to 16 inches tall, and are embroidered with details such as blood vessels and wrinkles. "Among these, the best sellers are the red 'I Got the Beat' heart, followed by the pink 'Womb Service' uterus and the blue 'All You Need is Lobe' brain," notes Bryan. The "Flossin' Ain't Just for Gangstas" tooth, the "Party Pupil in the House" eyeball and the "Heart of Gold" heart joined the plush organ family this year. The tooth is eight inches tall, with two black eyes and a one-tooth grin. The eyeball features a green pupil and embroidered blood vessels, as well as an optic nerve "tail" that adds to its height of 10 inches. The 11 inch Heart of Gold toy, made from metallic gold fabric, is the latest addition to the company's limited-run hearts line, which also includes the faux leather "Black Heart." These wholesale for $9 to $12 apiece and retail for $18 to $20.
Small plush organ toys average around seven inches in height, wholesale for $7 each and retail for $14. Retailers can place orders through I Heart Guts' distributor, DKE Toys, and can download point of sale posters and signs at iheartguts.com/wholesale-info. There is no minimum order, and retailers can order any combination of I Heart Guts' products they choose.
For more information:
DKE Toys
7360 Laurel Canyon Boulevard, Building B
North Hollywood, CA 91605
Tel.: 323-286-6669
Website: www.iheartguts.com