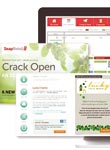 SnapRetail is a cost-efficient, ready to use marketing solution designed to help get shoppers into independent retailers' stores. In 2010, after working with retailers for more than a decade, Ted Teele, company CEO, founded the business, which creates an assortment of finished marketing materials, including email, social media, couponing, daily deals and other exclusive offers.
"Business owners don't have a lot of time for online marketing, because they are doing everything to run their businesses," notes Suzy Teele, COO of SnapRetail. Yet it is crucial for independent retailers to promote their businesses on the web. Not only is their competition doing just that, she stresses, but the way consumers think and shop has changed. "Consumers love to support their local independents, but they want to know what's going on there before they do. They rely on the Internet to get more information about local businesses." This is where SnapRetail's suite of online marketing tools comes in.
Thousands of targeted social media posts
Initially, retailers provide their store information, such as logo, hours, contact information, description and image, and this data is then wrapped around all the promotions they choose going forward. SnapRetail offers a library of thousands of pre-written Twitter and Facebook posts, and email templates with and without coupons, and it is the only system to provide Pinterest support. "Retailers love using Pinterest," Teele shares. "They create an email, put images of their products with a little 'pin it' button in the email, and when customers receive the message, they can pin those images onto their boards. The images link back to wherever the retailer chooses."
Without SnapRetail, a shopkeeper might spend an hour stressing over what to post on Facebook or, worse, four to six hours contemplating what to offer in an email promotion, but with SnapRetail, the content is all there, Te

ele stresses. "Our product offers a tremendous time savings because we do it all, including writing subject lines, headlines, email body copy and social media posts, and suggesting events. Everything we do is specific to what retailers would want to communicate to their customers to drive store traffic. We have Facebook content for every day of the month, if they want that, and we even suggest food recipes for specific events."
Unique interactive calendar
About six weeks before a specific holiday, retailers receive a promotion kit, which contains all kinds of marketing ideas from which they can choose. Using SnapRetail's unique interactive calendar, they simply drag and drop the promotions they want onto the days that they want those messages to go out. "We make it easy for retailers to promote their stores because we create content specific to retailers, no other provider of social media solutions or email marketing does that," Teele points out. "We are all about retail, that's all we think about every day."
Business owners can get access to all SnapRetail's solutions for less than $3 a day. An annual subscription is $999 and a quarterly subscription is $329. SnapRetail is offering Independent Retailer magazine readers a special offer. Go to SnapRetail's website, sign up for a 10-minute demo and mention you learned about the company in Independent Retailer, and you'll receive a $25 Restaurant.com gift card just for viewing the demo.
Where to buy