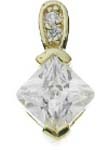 With the cost of precious metals so high, consumers are looking for high-quality, bonded and plated jewelry items. Sun Fashion Designs' bonding process, utilizing a combination of several different colors of gold, produces a product that radiates and easily passes as a solid gold piece. In fact, manager, Deidre Parker, explains, "A retailer can buy a charm for a manufacturer's price of $3.00 from us and mark it up dramatically at a $40 price tag, as there is a gap in the market. The only other option is to purchase a gold charm, perhaps for somewhere around $250 dollars. Consumers are more likely to buy our gold and silver plated items." Using karatbond gold for some items such as chains and anti-oxidation baths for silver plated pieces, in combination with brass (no steel or lead), Sun Fashion Designs guarantees a high quality, high detail piece that won't turn or tarnish.
Precious metal plated pieces aren't all Sun Fashion Designs has to offer, as many of its pieces deliver high polished looks with medium and larger sized cubic zirconium stones, many times appearing in a micro pave setting style. In a previous interview with Independent Retailer Magazine, Parker details the use of these stones, saying, "Thin pendant chains are being used with medium sized and larger cubic zirconium stones. This makes sense because the prices of semi-precious and precious stones has not increased as dramatically as the price of the precious metals." Among some of Sun Fashion Designs' top sellers is its 14K Gold Bonded Princess Cut Pendant for $4.74 manufacturer's price, Blue Sapphire Cubic Zirconium Pendant and Earring Set for $12.05, as well as its 14K Gold Bonded 2 Heart Pendant with Stones for 4.79. Parker mentions, "The items are very inexpensive, and when the stones are cut and displayed they are easily passable as real. For instance, the Princess Cut Pendant, I've had many customers come back and ask if they have received a real diamond."
When ordering, Parker advises that although there is no minimum order, the wholesalers and independent retailers looking to purchase merchandise should take into consideration shipping costs. "Why order a few items time and time again, only to pay continual and unnecessary shipping costs," she says. Also, for those retailers looking for an even more economical purchase, Sun Fashion Designs does offer pieces with reduced precious metal bonding or plating, allowing for a reduction in purchase price. For instance, you can purchase an eight inch karatbond gold chain for $4.00 manufacturer's price, or a product with less gold that can be purchased for $11 a dozen.
For more information:
Sun Fashion Designs
3220 Tower Road
Prescott, AZ 86305
Tel.: 928-499-2447
Toll Free: 800-398-7802
Website: sunfashionjewelry.com