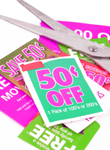 With almost a full year into economic recovery, and advocates like the National Retail Federation campaigning for swipe fee reform, retailers have time to turn their attention to other issues. A study, known as the RiskFactor Report for Retail Businesses, conducted by BDO, highlights "dependency on consumer trends," or figuring out what shoppers want to buy, as a top concern for retailers. In fact, 87 percent of stores questioned mentioned their shoppers' buying wants and needs to be their most recent focus.
How Do You Get Your Share of Consumer Spending?
With consumers spending once again, how do you get your share? Gas prices still made economic pressures a concern for those independent retailers catering to middle and lower income Americans. However, the recent drop in crude oil price brings the hope that all retailers, no matter size and targeted market, will be shifting away from the defensive recessionary mode. Then, focus can surround online initiatives and social media. "Online has been growing at something like 10 to 15 percent, and we're seeing a proportionate investment in those areas," says Doug Hart, partner in the retail and consumer product practice at BDO USA.
Other efforts to acquire customer interest and keep customer sales, include private-label lines and flash-sales concepts. As the Financial Times online quotes David Bassuk, head of retail practice at AlixPartners consultancy, "We continue to see consumers responding to value and promotions. They want the deal." Those retailers marked as top performers are those with the most sales, but not necessarily the highest profits. However, those retailers who offer aggressive low-price promotions have figured just what their consumers are looking for. Whether they are spending more or not, consumers like a good deal and discount.