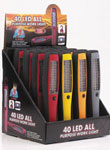 Promier Products distributes high quality LED flashlights, many of which incorporate the company's unique designs for improved functionality. While product performance excels, prices are kept low. "Innovation can come at a high price," states Cody Grandadam, president. "Our goal is to develop new and exciting flashlights at affordable prices. We are dedicated to creating better flashlights for our customers, and we think of ways to improve our products all the time." Promier Products' ideas are fleshed out in its office in Ningbo, China, where company designers draft drawings for the manufacturer. "Since our hands are on all the processing, from concept to consumer, our buyers make a nice profit," Grandadam remarks. Promier Products carries about 75 varieties of flashlights at all times.
More than an importer: A flashlight company
Promier Products' goal is to become a national brand, and products are delivered in the firm's original packaging "We are not just an importer; we are a flashlight company," Grandadam stresses. "When you think of big name companies that are selling flashlights today, you do not necessarily categorize them as importers, although many of these companies do import from China. If you look at Energizer, for example, you can find their flashlights in stores all over the world. I would be willing to bet very few people would say Energizer is an importer, but rather that they are a battery or flashlight company. At Promier, our goal is not to be the biggest importer. We are striving to be the best flashlight company."

This is evident not only in the company's dedication to design, but also in its commitment to customer service. "Customer service is our number one priority. We take care of our customers and ensure they have a positive buying experience," Grandadam continues. "Whether they are buying one flashlight or 1001, all our customers are important to us. If anyone has a problem with an order, we want them to call us so we can make things right." When Promier works with customers, it provides a direct phone line for service. "They will get a real person on the line, right here in Peru, Illinois." The process seems to be working, as Promier sells millions of flashlights each year. "Our products are being sold in 30,000 stores nationwide, so we must be doing something right," Grandadam notes.
One of Promier's best-selling introductions to date has been its all-purpose 36 LED Flip Light, designed for use in both the garage and home. Unlike most work lights, which shine in only one direction, Promier's Flip Light is versatile. "I designed this flashlight so users can shed light where they want it," Grandadam explains. "Our Flip Light is small enough to fit in a pocket, yet the powerful light opens up to 180 degrees so you can pivot it." The 36 LED Flip Light retails for only $9.99.
Ordering highlights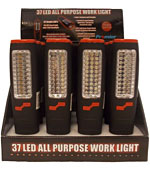 The minimum order is one display, which generally contains six pieces, and most products come in a counter display. Many items are also peggable, so buyers have the option to sell them on a counter or rack, and include batteries. Products typically ship the same day if orders are received by 2 pm CST.
Where to buy:
Promier Products
Peru, IL 61301
Tel.: 815-223-3393
Website: www.promierproducts.com