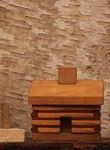 Best known for its log cabin incense burners, Paine Products has been around since 1931, supplying balsam fir-based products for individual and wholesale purchase. Touting itself as "The Original Balsam Fir Company", Paine Products specializes in pine-scented items such as oils and incense, as well as balsam-related items such as balsam-filled pillows, and balsam fir bags.
In addition to products such as these, you'll also find many other offerings for sale on the company's website, http://paineproducts.com. These include note cards, mug mats, incense holders, draft stops and mouse pads. The products are even organized in a very useful product listing page that makes it simple to find and order whatever it is you're looking for.
Signing up for an account is the best way to take advantage of the bargains offered in the sale of these unique products. Those looking to make wholesale inquiries are encouraged to contact the company directly (contact information below).
Commonly referred to as pine, balsam fir is a fragrant wood that can be used to manufacture many aromatically pleasing items. Paine Products' website directory is proof positive of that. Plus, if you check out the site, you can even get a glimpse of the company dog, Josie, who has his own section! He's not for sale, folks.
Contact:
Paine Products, Inc.
P.O. Box 1056
Auburn, ME 04211-1056
Phone: 1-800-524-0546
Fax: 1-207-782-0268
Email: paineprod@aol.com
Website: http://www.paineproducts.com