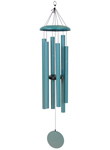 Wind chimes date back to Ancient Rome and Eastern and Southeast Asia. The chimes were used to ward off evil spirits and to bring good fortune. Wind chimes started to become modernized in China around 1100 B.C., and are still used today all over the world for their beauty and their healing effects.
QMT Windchimes® is the only manufacturer to offer both traditional and contemporary chimes that are all made in the USA, says Luke Croushorn, customer success manager at QMT. "We are the largest domestic manufacturers of wind chimes, and offer the widest selection of colors and styles." All chimes are made right in Manassas Park, Virginia, out of the highest quality materials, which are all sourced from American manufacturers. Everything from the raw material to the finished product is made in the USA.
Their flagship line, Corinthian Bells®, "are not your ordinary wind chimes," says Luke. "They are a dominant brand in the marketplace when looking for high-end wind chimes." These best-selling chimes are one-of-a-kind both aesthetically and phonetically. "We believe that they are the best chimes on the market today." The tubes are powder coated to give a complete and finished look to the chime. Corinthian Bells are available in ten sizes, and as of January, will be available in seven colors, including a new plum shade.
QMT will be displaying their products for retailers at trade shows across the country this January, including the Philadelphia Gift Show, Atlanta Gift & Home Furnishings, Dallas Total Home & Gift Show, Las Vegas Market, and the Toronto Gift Fair. In addition to the Corinthian Bells® collection, QMT will be displaying their increasingly popular Arabesque® line, and their newest line; Lakeshore Melodies™. Lakeshore Melodies™ will be available to ship as soon as mid-February.
In addition to trade shows, QMT has a permanent showroom at AmericasMart Atlanta. "Our AmericasMart showroom has moved to a new location for the upcoming show. After over a decade on the tenth floor of the Gardens," says Luke. "We're moving to the ninth floor, Suite 9-B-82. We look forward to showing off our new space at the January and July gift shows, but the showroom is open all year round." For more information visit www.qmtwindchimes.com.