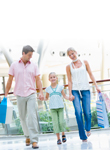 No industry ever stays the same. With time comes innovation and change. Retail is transitioning and with it, are malls. Malls are reinventing themselves to beat out the competition, drive traffic, and satisfy customers. Some malls did a complete 180 and turned into a living community, into medical and fitness centers, but many malls are learning to adjust and adapt to retail consumer needs. Malls need to reinvent their technology, types of stores, and the events they host, in order to keep their doors open and maintain their retail status.
Technology
Technology is constantly developing and changing and malls need to embrace that reality. The Mall of America focuses heavily on social media. They are constantly monitoring different platforms to prepare for large crowds and respond to questions. They ask customers to share their location with them through the social network and track them down in-store to help with any questions they might have from losing a gift card to being lost. Another way they integrate technology is having customer service agents actively walking throughout the mall with iPads and tablets. They are able to help customers make reservations at restaurants and check wait times, buy tickets for events and attractions, and use a product locator to help them find what they are looking for. Other malls use interactive digital displays that show maps of the mall and highlight their loyalty programs. Technology is incredibly important for malls, but just as important is the content of the mall.
Stores
Sears, Rue21, and Payless are just a few mall staples that have closed multiple locations. Instead of having an anchor, malls are starting to transition to smaller stores that offer specific products from local buys to exquisite and foreign products. Successful malls are not filling vacancies with similar big retail stores, but rather more individualized smaller stores. Pop-ups have become extremely popular and malls nationwide are welcoming them. Pop-ups generate a lot of hype and, since they are temporary, allow for the cycle to repeat. Malls are also creating stations for customers to recharge their phones and devices as well as themselves with couches, lounges, and coffee shops. There is a huge focus on adding more restaurants and food spots to malls. Food courts are getting major updates and offer top-notch eateries rather than greasy food cafeterias. Malls are not just reinventing their stores, but what they offer as a destination.
Events
Malls are becoming more than a place to shop. They are a place to go and have an experience. Malls are hosting events such as farmer's markets, concerts, and festivals to enhance community involvement. Some malls are transitioning from only indoor shopping to having outdoor stores and pavilions. Stores will host classes and events of their own as well. Lululemon has in-store workout classes, Williams-Sonoma hosts cooking classes, and many other stores are following suit. Malls are offering more than shopping to their customers and community.
Malls are not ending, but revamping themselves. By upping their technology use malls will attract customers. Malls will also host new and different stores as well as events to draw in new people and the community. Whether completely changing the services provided or implementing new strategies and changes, malls are reinventing themselves in this new era of retail.