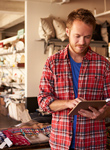 By Katie Alteri

Looking to add more excitement to your holiday sales strategy? It may be time to consider implementing flash sales. Holding flash sales allows retailers to surprise their customers with last-minute markdowns, making them feel a sense of urgency to buy the items as soon as possible. Unlike other sales, customers won't have a long time to decide, as flash sales only last for a short length of time. If you are new to the flash sale world, read these tips to find out how to make your sale as lucrative for your business as possible.
1. Market well on social media
Once you announce your flash sale, spread the word. Schedule social media posts for your accounts, which could be Twitter, Facebook, Instagram, Google+, in addition to many others. If one of your followers isn't a customer, they may become one after they hear about your can't-miss deals.
In addition to marketing the flash sale itself, you can also utilize social media as a customer service tool. Have someone monitor all of your social media accounts throughout the flash sale, so that any customer questions or issues can be resolved.
2. Send an email marketing blast
Reach more customers by sending out an email to your existing list. Try to make it personalized, as this will likely catch readers' attention. Explain how long the flash sale will last, and which items are marked down. Having a countdown timer can also be a useful way to create urgency and entice customers to make their purchases immediately.
 3. Make it an all-day event
Hold an all-day flash sale where you announce various items that are on sale throughout the day. You'll hopefully garner more sales, promoting different types of items that will attract customers with various interests. Leading up to this day, send out promotions hinting that customers should check their email or your social media pages to find out about a special surprise.
 4. Provide helpful customer service
Presumably, your flash sale will produce more website visitors than normal, which is why you should ensure that you are reachable on all your different channels. As we previously mentioned, social media can be a quick way to connect with customers who have questions or issues. Still, you should also ensure you have customer service representatives available through other mediums, such as via telephone, email and any CRM systems that you use. Providing seamless customer service is one of the most important parts of hosting a successful flash sale, so be sure to put emphasis on this!
 5. Don't overdo it
Find a happy medium when holding flash sales. Holding them too often will make your customers lose interest; if they miss out on this one, they can just catch the next one. But if you do them too rarely, you might lose customer attention too. The purpose of a flash sale is to surprise customers with a temporary offer, so make sure that these events still feel like one.
6. Ask for customer feedback
Want to know if your customers are appreciating your flash sales? Ask them! This can be in the form of a short email survey, or a poll on your website. Receiving your customer's comments and suggestions will help you continue to alter how you hold flash sales, the items you offer and other important components that affect patrons.
Now that you know all about how to hold a flash sale, it's time to start planning. Holding a flash sale can help you increase profits and reach customers who might not normally shop at your business. Now that you've learned about planning, promoting and revising your flash sale tactics, you'll be able to generate additional revenue for your business.