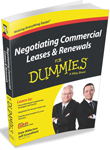 By Jeff Grandfield and Dale Willerton – The Lease Coach
With only a few months before Christmas, retailers are already gearing up for the holiday season. The holidays are, typically, the busiest times of year for retailers and they want to take advantage of the season. Store owners are ordering more inventory, hiring more staff, and extending their shopping hours; even shopping centers are adding more retailers as tenants.
Retailers may, or may not, be interested in leasing additional space on a long-term basis. So, the common solution is to secure a kiosk. Kiosks are the most common type of pop-up space – or temporary display stands which can be situated at different locations through a mall. This option can be viable for holiday retailers who find their products in the highest demand during the gift-giving season.
Shopping mall visitors can see temporary pop-tenants opening for business at any time now and closing in early January. However, this doesn't necessarily mean that pop-ups are reserved for short-term tenancies. Shopping malls may have vacant commercial space or in-line space, which a landlord may be willing to lease out for a longer term. Temporary kiosk space leases typically start at $100.00 a day or more, and can be had for a weekend or a week. Several months is not uncommon. Commercial retail units, as mentioned, is the other option for temporary retailers looking at longer tenancies. They will, however, be paying the so-called market rent, or going rate of between $2,000 and $4,000 per month and beyond, depending on size and location.
Tenants interested in pop-up space in a mall must follow a similar process, as if they were leasing for a longer term. They must conduct site selection and visit a number of possible malls. By viewing other properties and speaking to other landlords, you may also be able to create competition for your space. Prospective tenants should introduce themselves to current tenants and ask pointed questions – How long have you leased here? What is your opinion of the landlord and the property manager? Has your rent been recently raised and, if so, by how much? Are you planning to move? What you learn here may surprise you.
The best pop-up deals are negotiated in advance. Most shopping malls have a limited number of temporary kiosks, and these may already be spoken for. While there may be a vacant unit in a mall, there may also be a lease deal pending on it. The Lease Coach typically recommends that tenants interested in pop-up opportunities submit their business plan to the shopping mall office, and ask them to put you on a list to be notified when such commercial space becomes available. As with a more standard commercial lease deal, a deposit is required from the pop-up tenant. With most landlords, the deposit is the first and last month's rent.
If you think that you might set up a temporary pop-up kiosk anywhere in a mall or move it to a busier location if customer traffic isn't as high as expected, think again! Every mall will have potential kiosk spots that are not mobile. Some will have electricity available through the floor and some will also be plumbed for a sink. Some kiosks are permanent structures while others are only temporary.
Note that all shopping centers have their busier and quieter sections. For example, a second floor is often much less shopped than the main level. High traffic areas include the mall entrances. Mall managers often do traffic counts at these doorways, and a kiosk placed directly beside a busy door or the food court can be much more expensive, but worth it.
Pop-up kiosks can enhance a shopping mall by attracting additional customers, adding to the retailer count, and simply making the mall appear busier. Start your inquiries as soon as you possibly can. For some malls, it may be too late to secure a temporary kiosk for this year. Regardless, start the conversation now and plan early for next year.