By Kelley Sloyer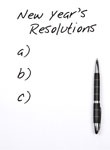 New Year's resolutions: we all make them and break them. Your resolution may last a week or a few months, but eventually you may find yourself back to the same old, same old. Typical personal resolutions involve dieting and exercise. For business, everyone wants to expand their reach and increase sales, but you would be surprised by how many people break their resolutions, even with something as important as their business. With all of the social media features out there, your resolution to promote your business may be easier than you think. The following are two ways to stay true to your 2014 goals.
Be active daily
This year, make a commitment to post, tweet or pin daily. It is imperative to start this immediately, and to interact regularly to keep your pages organized. If not, you may miss an opportunity to repost something or may share the same thing twice. As a small business owner, you may be wondering when you will find the time to reach your customers on social media. That is why it is important to find your best times to post, tweet or pin, and here's how:
For Facebook business pages with 30 or more fans, click "View Insights" on your Admin Panel, and then click "Posts." You can hover on each day of the week to pull up a graph that will show you the peak times your customers are online.
For Twitter, sign up at ads.twitter.com to have access to Twitter Analytics. Click "Analytics," then "Timeline Activity" to see a grid and all of the tweets you sent during the past month. Click "Best" and Twitter pulls up the top 15 percent of tweets with some level of engagement. You can also view the best days and times of your tweets.
For Pinterest, go to your Pinterest page, click on your name in the right hand corner, and then click "Analytics." You will be able to view the number of pins that come directly from your website. Pinterest's analytics are especially useful if you have a website. If you do not have a website, you will want to use the Impressions Analytics tool. This will show the number of times users have seen your content in any form on Pinterest. The key to success on Pinterest is to pin five to ten times a day.
Use a planning calendar
Another way to stay organized on social media is to develop a social media planning calendar. Planning your posts, tweets and pins on a calendar helps you remember when and what information to send. SnapRetail developed a drag and drop calendar, complete with pre-written social media ideas to schedule and send. Other planning tools that can help keep you organized include HootSuite, TweetDeck and Seesmic. When planning your daily social posts, schedule at least one month in advance. Strategize your social media around events, sales or promotions going on that month. Then add tips, ask questions and give advice. Above all, consider your social media channels as a fun way to promote your business. Create an organizational plan now, and resolve to stick to it!