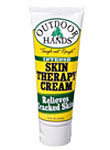 Outdoor Hands LLC manufactures unique skin care products to heal cracked and chapped skin, relieve joint and muscle pain, and limit allergic reactions from exposure to poisonous plants. The company's core product is Skin Therapy Cream, which contains a blend of certified organic oils and botanical extracts that restore, soothe and moisturize damaged skin. It does not contain mineral oils, petrolatum, glycerin or lanolin, so there is nothing to impede absorption. "Our Skin Therapy Cream relieves cracked skin anywhere you have it, including the hands, elbows, knees and feet," says Robert Fine, company co-owner. The cream comes in a 3.4-ounce tube that wholesales for $6 and retails for $10 to $12. It is delivered in a display case and includes a tester. "We get a lot of comments on the skin cream," Fine reports. "People love it because it is not greasy and does not come off every time you wash your hands. It takes just a little bit to be effective and has very little scent, so it is attractive to both men and women."
Lip cream and new lip balm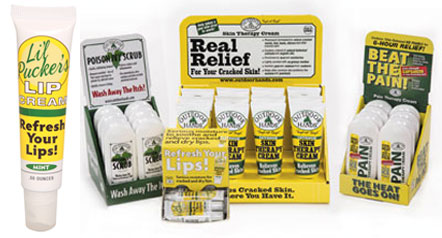 In addition, Outdoor Hands offers Lil Pucker's Lip Cream. A derivation of the original formula, the product also contains aloe and vitamin E, and has a mint flavor. "Our product does not sit on the lips, it goes into the lips and is a healer," Fine explains. Lil Pucker's Lip Cream is packaged in a half-ounce tube that wholesales for $2 and retails for $4. "We are reformulating the lip cream into a healing stick that will be easy to apply, and will be available by the end of January," Fine adds. The new lip balm will wholesale for $1.50 and retail for $2.99.
Another item from Outdoor Hands is Pain Therapy Cream topical pain reliever. The capsaicin-based product provides deep penetrating heat, and contains omega oils to fight inflammation. It is time released and lasts up to six hours, and comes in a four-ounce tube. The product wholesales for $7 and retails for $14. "Most capsaicin products come in a one to 1.5 ounce tube, and retail for the same price as our product," Fine notes. "We offer top quality at a great value." Outdoor Hands recently added Poison Ivy Scrub to its line. The gentle, exfoliating cleanser washes off the oil from poison ivy, oak or sumac plants, and provides instant relief from itching, pain and swelling. The four-ounce bottle wholesales for $6.50 and retails for $12.
Ad campaign and sales literature
Outdoor Hands' products were developed by pharmacist and company co-owner, Austin Gore. He created the skin cream to treat the severely cracked skin on his wife's hands, because there was nothing on the market that helped. "Austin knew he was onto something that would comfort a lot of people," Fine continues. The company conducts an extensive national and regional advertising campaign to alert consumers to the benefits of Outdoor Hands' products. Sales literature is available upon request. The minimum order is one case of any product, and shipping is free on orders over $100.
Outdoor Hands LLC
P.O. Box 5835
Aiken, SC 29804
Tel.: 803-226-0506
Website: www.outdoorhands.com