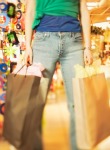 Retailers have reason for optimism as consumer spending finally shows momentum, the National Retail Federation reports. According to the NRF, October retail industry sales (which exclude automobiles, gas stations, and restaurants) increased 0.3 percent seasonally adjusted over September and 2.6 percent unadjusted over last year, marking the fourth straight month of sales gains.
"This continued momentum is good news for the industry, especially with Black Friday and Cyber Monday quickly approaching," NRF President and CEO Matthew Shay said in a statement. "While there is no question that consumer demand has improved, there are still questions about consumer confidence tied to high unemployment. We need to see improvement in key economic indicators to sustain any long-term growth."
October retail sales released by the Commerce Department show total retail sales (which include non-general merchandise categories such as autos, gasoline stations and restaurants) increased 1.2 percent seasonally adjusted over September and 5.4 percent unadjusted year-over-year.
"While spending throughout the industry was varied, it appears the fourth quarter has gotten off to a solid start," said NRF Chief Economist Jack Kleinhenz. "October's results are a clear indicator that the economy and consumer spending continue to show marked improvement, even though we expect consumers to proceed with caution."
Cooler, seasonal weather in October helped apparel and sporting goods stores' sales, the NRF said. Clothing and clothing accessory stores sales increased 0.7 percent seasonally adjusted over last month and 1.4 percent unadjusted over last year. Sales at sporting goods, hobby, book and music stores increased 1.0 percent seasonally adjusted month-to-month and 5.9 percent unadjusted year-over-year.