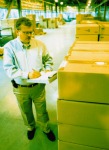 Inventories at the wholesale level rose for a ninth consecutive month in September while sales rose for a third month, encouraging signs that the economic expansion will continue, the Commerce Department reports.
Wholesale inventories rose 1.5 percent in September, a much bigger gain than had been expected, after a 1.2 percent increase in August, Commerce said. Sales at the wholesale level were up 0.4 percent in September after a 0.5 percent rise in August.
Inventory rebuilding has provided critical support as the economy has struggled to emerge from a deep recession. Increased orders to fill empty store shelves have translated into higher production at the nation's factories.
The full story begins HERE.