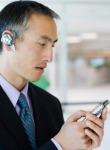 A new report from the Aberdeen Group of Boston reinforces what many savvy retailers already know: social media works as a way of reaching customers.
"The impetus for social media adoption comes directly from an increased consumer utilization of this medium as a primary shopping and research tool (53 percent), as well as its increasing usage among competitors (47 percent)", according to the Aberdeen Group report, "Social Media: Customer Engagement, Brand Interactivity, and Revenue."
According to Greg Belkin, chief author of the report and a retail social media analyst at Aberdeen,. "There is no doubt when it comes to the pervasiveness of social media among retailers. The challenge, however, is to turn this pervasiveness into something measurable."
For more on this story, click HERE.
For a downloadable version of the report, click HERE.