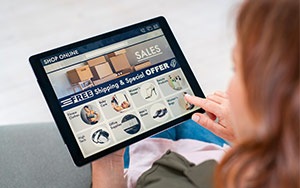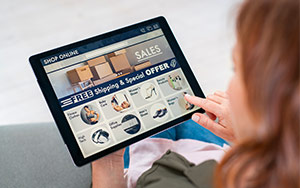 Recently, the retail industry has undergone some drastic changes. Most of which have forced retailers to re-adjust and rethink the way in which they conduct their day-to-day business operations. In fact, even existing challenges such as the influence and impact retailers and brands have on our environment, are changing.
The driving force behind this change are consumers' shopping habits and their perception of the environment, so much so that even their purchasing decisions are becoming increasingly influenced by a retail brand's environmental footprint. With so many consecutive changes and such high expectations, it can be challenging for retailers to find a balance between sustainability and profitability. Fortunately, there is a solution.
Added Pressure from Increasing Customer Expectations
It should not come as a surprise that more consumers are shopping online. In fact, the exponential growth in online shopping is a driving force behind some of the greatest challenges in retail today. Many retail brands have been thrown head first into the recent digital transformation. Not only has this forced businesses to step out of their comfort zones, but it has also drastically altered consumer purchasing habits and increased their experiential expectations.
Options that were once considered "nice-to-haves" are now essential business elements consumers expect from all retailers. Some of these include
Next day shipping
Hassle free returns
Seamless omnichannel experiences
Multiple fulfillment options
On top of this, consumers are still expecting businesses to uphold their responsibility in protecting the environment while minimizing their environmental footprint.
What This Means for Retailers & the Environment
Consumer expectations are putting retailers in a tight position. The ability to simply meet these expectations requires drastic internal transformations and adjustments to current operations coped by a substantial amount of capital. Furthermore, the ability to dynamically operate at this capacity unfortunately does not come without serious environmental costs. To put this into perspective, let us break it down even further:
Plastic and cardboard consumption: The number of individual orders that are sent separately has drastically increased, therefore increasing the amount of cardboard boxes and plastic waste generated.
Carbon emissions: To accommodate for the increased deliveries, more vehicles are required, therefore increasing the overall amount of carbon emissions. In fact, according to New York University research, a typical consumer goods company's supply chain accounts for more than 80 percent of its greenhouse gas emissions.
Larger and increased number of fulfillment centers: Next day shipping and easy returns requires an increase in number and in overall size of fulfillment centers — increasing environmental footprints.
Higher number of returns: Online shopping means that consumers are unable to physically see and try on products resulting in a higher return rate. Returns can cost retailers a significant amount of money and if they are unable to re-sell returned merchandise, it typically ends up going into landfills.
Without a way to optimize operations, this impact is going to become devastating as consumer expectations and demands continue to increase.
How AI & ML Can Help Retailers Save the Environment
When it comes to environmental impact, trial and error is too expensive and potentially disastrous for overall brand reputation. The ability to unravel these challenges in a productive and profitable way will require indie retailers to explore resources outside of their current itinerary — such as advanced retail analytics tools.
Powered by artificial intelligence, these tools analyze retail data to generate informed and accurate optimization opportunities. Fortunately for businesses, these optimizations benefit both the environment and profits. Let us take an in-depth look at some of the ways this is possible:
Demand forecasts: Retailers can accurately forecast not only overall demand, but can also break it down to specific products in specific stores. Retailers are then able to significantly reduce how much inventory they buy and ship, cutting down on their carbon footprint.
Fulfillment: When retailers understand demand for specific products, they can ensure fulfillment centers have adequate inventory for high-demand locations. Furthermore, AI enables retailers to determine the optimal route to ship (fulfill) their orders, reducing carbon emissions.
Returns: An in-depth knowledge of product demand enables retailers to direct returns to specific locations that still need the product – instead of sending it back to its original location. This increases the chance of re-sale and reduces potential waste.
The future is looking greener, and it is important to remember that without a planet, retail would not exist. Therefore, brands focusing on reducing their environmental impact through the use of new technologies will position themselves for a bright and prosperous future that will create a greener world for consumers and a more profitable world for retailers.
Trevor Griffith graduated from St.Lawrence College and is currently the Digital Marketing Specialist at Retalon, the world's leading provider of predictive analytics and AI for retail. Retalon solutions solve complex challenges in Planning, Inventory, Pricing, and Promotions, and all solutions stem from one unified analytics platform. Retalon's platform seamlessly integrates with any ERP or OMS, and our 100% in-house professional services, technical support, and analytics teams ensure you hit your goals on time.