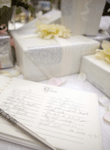 Now is the time when retailers, primarily big box retailers and chain stores, reap the rewards of a billion dollar wedding registry market. During the height of wedding season (July, August, September and October), a large number of guests begin to purchase the high price tag items chosen by engaged couples. According to The Knot Market Intelligence 2010 Bridal Registry Study, 1.5 million or 88 percent of engaged couples in the United States registered for gifts last year. It further found that the average family member spends $146 on a wedding gift, while friends of the couple typically spend $79. And while there is an obvious big store bias when it comes to gift registries, independent retailers can compete for a cut of wedding day sales.
Engaged Couples Will Say "I do" to Gift Registries Supported by Excellent Customer Service
Outstanding efforts by 'buy local' supporters such as Alison Grappone ensure independents' success in increasing wedding gift sales. After planning her wedding four years ago, Grappone became aware of the lack of independent retail gift registries. As The Telegraph reports, "Grappone and her husband wanted local gifts from independent book shops and the community playhouse, or a share in a community supported agriculture program." As a result, Grappone saw the opportunity to create a gift registry dedicated to independent retailers and nonprofits and is set to launch this fall. The Gourmet Retailer, however, reports that independents, especially those retailing kitchenware, can build their bridal business now by following a few simple steps.
With an average number of 151 gifts on a couple's registry, according to The Knot, and bakeware (91 percent) and kitchen appliances (90 percent) being the most popular gift selections, independent kitchenware retailers have the best opportunity to launch a successful registry. They are encouraged to build their registry business through a focus on outstanding customer service, in-store incentives and a convenient, enjoyable process. Below are a few tips in reaching these goals:
1) Help the couple pick out products that fit their lifestyle: As any store owner should do, get to know your customer. The greater the effort you put in, the more likely you will gain a repeat customer. Couples looking to register with your store don't want to waste their wish list on items they won't use. So, ask them about their culinary lifestyle and use their answers to help determine what they need. A few questions to ask include: how frequently will you prepare meals at home?; who of you will be doing the cooking?; do you enjoy entertaining?; are you inclined to assemble meals, rather than actually cook foods?
2) Help gift-givers envision the gift they are giving: Most wedding registries are online providing customers with little chance to see the product before shipping. Independents, however, have the opportunity to make the shopping experience unique. For those gift-givers looking to fulfill their purchases in store, retailers could provide a bridal registry display center. These displays would feature a representative sample of the items on a couple's registry. As Marg Junkan, owner of Cook's Emporium, tells The Gourmet Retailer, "The response has been great. If you just hand someone a registry sheet, they're sort of lost. The displays really help because customers don't have to walk all over the store looking for the registry items. It's really encouraged them to buy more."