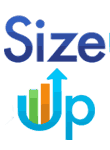 SizeUp is a free business intelligence tool, created especially to help brick and mortar shop owners assess and grow their businesses. "Big companies have the resources and power to figure out the path to success," SizeUp CEO Anatalio Ubalde points out. "Small businesses, however, don't always have the resources they need to create a successful company. SizeUp breaks through economic and information barriers, and gives small businesses access to great business intelligence at no cost to them." SizeUp provides demographic, industry, geographic, business, transportation and cost of business data, using powerful analytic search tools that enable independent retailers to make smarter decisions. SizeUp's data can be super crunched in a variety of ways to compile lists like, "top cities for startups," "average wage rates" and, "typical revenue," for every industry and geographic region across the U.S.
SizeUp shows businesses how they match up to, and can outperform competitors, and how to make more money. The software allows business owners to map out individual competitors to see where they are, as well as to locate businesses they can sell to, explains Eric Simundza, product manager of SizeUp. "The program will show you areas where there are a lot of customers but few competitors." The "Choose My Business" feature compares several data points, such as annual revenue, to the industry average by city, county, state and the nation. "SizeUp also pinpoints areas where your business is doing well and areas where you might want to advertise," Simundza shares. Retailers can choose from pre-set reports to find areas with the highest industry revenue and most underserved markets, and where average business revenue is peak, or create custom reports. In addition, the company's website provides a list of resources to help retailers interpret data and make actual decisions. Independent retailers can go to the SizeUp website, www.sizeup.com, and create an anonymous account for free with an email and password, and they can access data immediately.
"SizeUp is a fantastic tool," says Arik Levy, owner of Laundry Locker. Voted the Best Dry Cleaner 2012 by the San Francisco Weekly, the self-service retailer launched in 2004 and has lockers located throughout the city where customers drop off their laundry. "We pick it up, service it and drop it off back at their lockers, and customers pick it up at their convenience," Levy explains. "We're going after the traditional dry cleaning space, and SizeUp helps us see where the dry cleaners are and how much money people are spending in those areas. It's a really easy, targeted way for us to do some high level market analysis, both in our market and in new markets that we're looking at." Laundry Locker recently launched a platform called Drop Locker, a franchise business for individuals around the country. "I recommend SizeUp to everyone we're working with on the Drop Locker solution," Levy remarks. "I tell them to use SizeUp and analyze their market. When you're starting to get into a business, it's the kind of thing you're looking for. Trying to do that research yourself is very difficult. You would be lucky to find where the dry cleaners are, let alone see the demographics, spending, etc."
Lila Raygoza, owner of Sidewalk Runway, a vintage and pre-loved designer footwear shop, agrees. Raygoza launched her business in September 2012, and currently operates pop-up shops at events such as San Francisco's Indie Mart. Raygoza says she used SizeUp to conduct research for her business plan, to gather competitor information and to analyze top markets across the country. "It is a good tool for business intelligence. SizeUp's projections and number crunching saves time, and I like that resources are recommended for additional business needs."
SizeUp is the first private sector company to license its technology to the Small Business Administration. The tool can be found at SBA.gov/SizeUp. The software also won first place in the U.S. Commerce Department's Business Apps Challenge and was selected as a Top 10 Data Startup at the 2012 Data2.0 Summit.
"We will continue to expand the tool to help small businesses make smarter decisions," Ubalde notes. "We're going to add new features, specifically more data focused on consumer spending. All net new jobs come from small businesses, and it's very important that they succeed because they are the companies that are going to improve our economy."