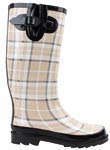 Star Bay Group, Inc. is a wholesaler of its own trademark brand of footwear for women, men and children. "Our product line includes many stylish sandals, warm and comfortable slippers, and several varieties of aqua shoes," says Jeff Zeng, president of the company. "We also have our line of women's boots, to form a well-rounded collection of merchandise from which retailers can choose year round." Star Bay Group has two lines, one for the fashion market and another for discount and off-price stores.
"We have expanded our line of women's sandals for 2013," Zeng shares. The firm's line for women this spring and summer includes flats, wedges, and heels of varying heights, in numerous strappy fashions, colors and materials. Style 2518, for example, is a women's sporty molded flip flop available in black, white, green, blue, yellow and fuchsia, which wholesales for $2.75 to $3.25 a pair. "Our styles generally retail for up to three times our wholesale price," Zeng continues. Customers choose Star Bay Group because the company strives to offer the best quality and styles at the best prices, coupled with great customer service, Zeng notes. "We understand that customer satisfaction is key to success, and we always keep that in mind in our business decisions. We are driven to ensure that the styles we produce are in tune with current trends, as well as with our desire to provide the best quality footwear."
With a focus on the U.S. and South American markets, the company has more than 500 items on display in its showroom in Hackensack, NJ. Star Bay Group also has a manufacturing facility in China, and partners with several domestic shoe manufacturing facilities as well. The minimum order is one case. Orders can be made via the website, telephone, fax or email, and Star Bay accepts credit cards, as well as wire transfer payments. Payment terms for individual accounts are negotiable, and damaged items can be reported within 10 days of receipt. Orders are shipped within one day, provided the items are in stock. To learn more about Star Bay Group, visit the company's representatives at the OFFPRICE Show in Las Vegas, February 17-20 at booths #3318 and 3319, and the ASD show in Las Vegas, March 17-20 at booth #SL4547.
For more information:
Star Bay Group Inc.
400 Railroad Ave.
Hackensack, NJ 07601
Tel.: 201-678-1688
Toll Free: 888-882-5588
Website: www.starbaygroup.com