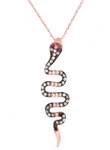 Jewelry is an essential fashion item for most women, and for many men and children as well. Retailers who offer these accessories in a range of styles, materials and prices stand to profit this spring and all year long. Italgem Steel Group, launched in 2004, wholesales a wide variety of bracelets, earrings, pendants, necklaces, rings, cuff links, money clips, tie bars and key chains in hip yet tasteful looks. "Our mission is to design trendy men's and women's steel and silver jewelry at affordable prices," states Sam Mamane, president and CEO.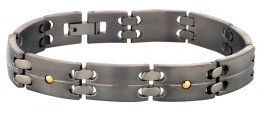 Italgem Steel Group's brands include the company's own top selling Italgem Steel, which retails for an average of $60 to $120 per piece. The company is the exclusive distributor of Italian brands Comete and OPS! Objects. It also carries Italgem Diamond, Italgem Tungsten, ID-XCHANGE, Cobalt Chromo, Infinity Titanium brands and more. The firm's products are distributed in 36 countries across five continents. "Retailers choose us because of brand recognition, top quality manufacturing, our excellent level of service and exclusive designs," Mamane reports.
Rose gold, Swarovski crystals and genuine leather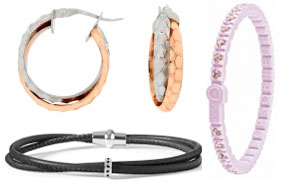 For spring, Mamane expects earrings and bracelets in rose gold plated stainless steel with textured materials such as crystal and leather to be strong sellers. Italgem Steel Group carries several appealing pieces along these lines, including stainless steel rose-plated hoop earrings with white Swarovski stones, which wholesale for $15 and retail for $39 per pair. For men, the black plated stainless steel bracelet with cable and black spinels, which wholesales for $30 and retails for $79, will be a hot item. A black genuine leather and rose gold plated stainless steel wire bracelet with a magnetic clasp also promises to be popular with men. It wholesales for $20 and retails for $59. For teenage girls, Mamane predicts the OPS! Objects rubber and pink Swarovski tennis bracelet, which wholesales for $17.50 and retails for $35, will be in demand. The OPS! Objects bracelet with steel clasp and heart-shaped charm, available in a variety of pop designs such as camo and damier, is also destined to be a hit with girls in 2014. For boys, the black cable bracelet with ID plate stands to remain popular.

Italgem Steel Group's jewelry is manufactured in Italy and Thailand. In addition to fashionable designs, the Italgem Steel line offers retailers triple keystone markups, Mamane points out. The minimum wholesale order to become an authorized dealer is $1,800. Displays, packaging and marketing materials are available free of charge.
ITALGEM STEEL
500 Sauvé West
Montreal, Quebec
Canada H3L 1Z8
Toll Free: 855-ITALGEM (482-5436)
Tel.: 514-388-5777
Website: www.italgemsteel.com