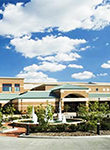 Larry Harris and Richard Lisner of Rosehill Enterprises, owners and promoters of the St. Louis and Louisville Gift Shows, have announced they are transitioning ownership and management of the long-running shows to Cindy and Karl Kuhn of Chicago, IL. "After more than 30 years in the gift industry, as an exhibitor, distributor and gift show promoter, it's time for Richard and me to retire and turn the reins over to someone new," says Mr. Harris. "We're delighted that my niece and her husband Karl are excited about the industry and shows."
Cindy and Karl will lead the management and promotion of the 59th St. Louis Gift Show, August 14-15, 2016 and the 63th Louisville Gift Show, August 28-29, 2016. Harris and Lisner will continue to provide guidance to Mr. and Ms. Kuhn for these next two shows. "We are committed to continuing the same competitive pricing and ease of doing business that has made this a 'must attend' show," says Ms. Kuhn. "We will continue to focus on helping retailers stay on top of trends and customer demands with a show floor full of exciting merchandise."
The St. Louis and Louisville Gift Shows will operate under the umbrella of Rosehill Gift Shows. According to Ms. Kuhn, they are planning an upgraded website and promotional features for the near future. Ms. Kuhn brings a deep professional background in marketing, communications and customer engagement. She has managed the marketing and promotion of dozens of association trade shows in a wide variety of industries. Mr. Kuhn is a retired teacher, coach and currently serves as Chaplin for American Legion Post No 42.
The St. Louis and Louisville Gift Shows are two of the oldest wholesale order writing and cash and carry shows in the country. They have a strong record of attracting buyers and exhibitors from around the United States.
The Rosehill Gift Shows offer merchandise in the giftware, gourmet foods, jewelry, watches, furniture, home décor, apparel, bed and bath, corporate gifts, candles, collectibles, collegiate, candy, scarves, handbags, American made, and seasonal merchandise. Retailers can browse over 100 exhibitor booths offering thousands of products from around the world. For more information, visit www.stlouisgiftshow.com and www.louisvillegiftshow.com.
Upcoming 2016-2017 dates:
August 14 – 15, 2016,
August 28 – 29, 2016,
January 15 – 16, 2017,
February 19– 20, 2017.