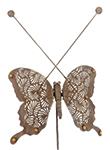 "Red Carpet Studios is a leader in the field of gift and garden décor," says Stephanie Flannery, National Sales Manager for Red Carpet Studios. "We offer hundreds of value-priced accent items that will highlight any landscape. Our in-house design team is consistently developing new looks and working with different materials for each new release." Red Carpet Studio's newest releases are the Art in Motion garden balancers. Garden Balancing Buddies™ are unique sculptures that ad a whimsical and moving touch to any yard or garden. "Instead of items just spinning in the breeze, we wanted to give more motion to the product itself," explains Flannery. "By adding specific weights to the wings, these balancers not only spin in the breeze, the wings give the motion of flight."
Art in Motion Balancing Buddies™ come in a variety of dynamic butterfly, dragonfly, crow, and owl sculptures. "Art in Motion fits into any decorative outdoor space,"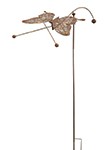 continues Flannery. "By incorporating motion to the wings, we have added kinetic elements not really seen before." Now that the warmer weather is upon us, more people are spending time outdoors and in their gardens. Balancing Buddies™ is a timely seasonal addition to any garden center, nursery garden, gift store, general merchandise, or specialty store. Flannery recommends that retailers advertise this item in outdoor living areas along with garden stakes, birdhouses, chimes, and other similar decorative items. The best way to merchandise the Art in Motion products is by showing one out of the packaging on Red Carpet Studio's adjustable deck base. Allowing consumers to see the motion will spark natural interest and curiosity.
Each sculpture wholesales for $18.50 with a recommended retail price of $37.99 – $39.99. However, "we have had our retailers say they can sell Balancing Buddies™ for up to $49.99," says Flannery. Order minimum is $150, and in-stock products ship within 14 days. "We are a family owned company," explains Flannery. "We understand the needs of the independent and family owned retailer as we have the same background."
For more information, including a video of Balancing Buddies™ in motion, visit www.rcsgifts.com.
Red Carpet Studios
107 Northeast Drive,
Loveland OH 45140
Tel.: 877-985-0405, 513-774-1600
Website: www.rcsgifts.com