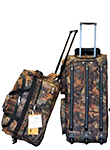 Summer is upon us and vacationers of all stripes will be on the lookout for a good deal on luggage- and that's where E-Z Luggage can save the day for retailers. "E-Z Luggage was established in 1996," says company manager Sherman Tao. "E-Z Roll™ brand is our registered trade mark. For about 20 years we have developed full lines of quality luggage and bags."
Just in time for the high-demand season, E-Z Luggage has released two new luggage series. The first, entitled "Ori-Ori" is a quilted luggage and bag line. The products are 100% cotton and different bag styles include spinner luggage, cross-bodies, and mommy bags. All the bags are all detailed with colorful flower patterns, durable lining, and plenty of pockets, zippers, and dividers. The company's best-selling item is the 28" quilted spinner luggage in a blue and pink rose pattern, featuring four wheels and a soft padded handle.
E-Z Luggage's other new line, entitled "Outdoor Series," is an outdoor-enthusiast styled hunting line that consists of various sized duffle, tote, and shoulder bags. They each have heavy-duty

zippers and quality workmanship for outdoor endurance. In addition to satisfying travel needs, the "Outdoor Series" is ideal for outside activities such as camping, hiking, and the upcoming hunting season.
As a supplement to their bags, E-Z Luggage also carries travel accessories including luggage tags in multiple sizes, luggage scales, and digital camera accessory kits. E-Z Luggage's E-Z Roll™ brand is sold in independent general merchandise stores, gift shops, and chain stores such as Target, Walmart, CVS, and TJ Maxx.
Pricing and Ordering
Wholesale prices start at $6 for a dozen luggage tags, up to their most expensive item, the "Ori-Ori" quilted luggage spinner, which is $29.50/unit wholesale. Many of their totes and shoulder bags are available by the dozen. All of E-Z Luggage's merchandise retails for two or three times the wholesale pricing. A low order minimum of $200 is required. Tao recommends checking their website www.myezroll.com frequently for special deals and clearance sales.