By Mackenzie Hurlbert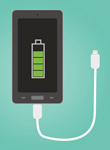 Josh Eastman, owner of New Age Discoveries, entered the wholesale business as a supplier of fishing lures. One vibration speaker changed his mind and redirected his business into the world of technology. "That was the coolest thing I had ever seen," said Eastman about the gadget, which uses the vibrations of music to turn any hollow object into a quality speaker.
"I literally warehoused my company and switched suppliers in four days. I canceled all of my shows and said I am going to get rich. We ended up selling over 60,000 speakers in four years," said Eastman. "I made more money the first year with the speakers than I had in the previous 13 years selling fishing lures. That was a no-brainer. I saw that and said this is going to be a billion dollar product, and it was."
From speakers, Eastman made the jump into phone chargers and accessories.
Now New Age carries mostly phone chargers and accessories. "Everyone has a phone," said Eastman. "And now I sell many more phone accessories than speakers. They are everywhere. Everyone has something they need to charge sooner or later. All the grandmas buy them for their kids and even grandmas have phones now, or iPods or iPads."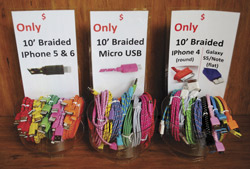 The company carries charging cables, outlets, and even all-inclusive battery chargers for phones which can be repurposed to jump your car battery. They have four different phone chargers that work with any tablet and any phone. "Two of them can actually jump start vehicles," said Eastman. "One is the same size as an iPhone 6. It will charge your phone right in your pocket, and it comes with a baby set of jumper cables. The smaller one can start up to ten cars or trucks on a single charge. I have been selling those for about seven months."
Eastman said the chargers have been very popular among consumers and are often purchased as gifts. "Even if you have jumper cables or AAA, you still have to wait for someone, or you have to find somebody to jumpstart you. You can use this to start your snow mobile, your four-wheeler, and they are great on boats too."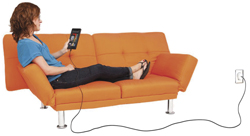 The hardest part of the business was finding the right supplier and quality control, Eastman said. "I had no idea and was just ordering, bringing over pallets and pallets. I learned it is much better to have a high quality product and to keep your customers happy and coming back to you, simply because once you lose a customer due to one silly wall outlet, they are not coming back."
For the future of New Age Discoveries, Eastman plans on helping design some of the pieces himself. "Half the products I will be carrying next year, I will actually help design," he said. "My name and my packaging are going to be put on them, so I am making everything better. I know what all the problems are because I use it everyday too. That is the goal: to start designing merchandise so it is made the way I want it."