by Meaghan Brophy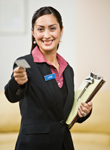 Steps for Leading a Top-Notch Sales Team
Sales is one of the oldest and for many, most difficult jobs there is. As a store owner or manager, one of your top responsibilities is making sure your business brings in the revenue it needs to not just survive, but thrive and grow. Getting the right employees to do the right things can seem like an endless trial-and-error situation. However, with some careful planning and diligent leadership, creating a top-notch sales team is not as elusive as it seems.
Hire the Right People.
Skills can be learned, qualities cannot. Being able to sell is a skill. Someone who has years of successful sales experience may seem like a low-maintenance, easy fit on a resume. However, will they be loyal to your company? Will they take constructive feedback and work to improve? Do they honestly care about your business and customers? Someone who may not have sales experience but is eager, a quick learner, and is genuinely invested in the business may be a better option. First, sit down and make a list of what qualities you want your employees and team to have. Then, hire based on that list.
Provide Structure.
Once you have the right people, you need to set them up for success. This means providing training and a specific sales procedure. Walk them through the sales process step by step, including everything from first greeting the customer to how to end the conversation after the purchase. For the main sales pitch, provide a clear script for them to learn and follow. Provide suggested talking points and guidelines for building rapport before the pitch, overcoming objections, and wrapping up the details of the sale.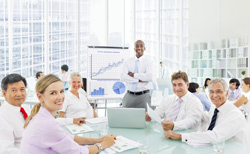 Before you let your team loose on a potential customer, make sure they know how to navigate the entire process on their own and feel comfortable handling different customer situations. Role-play the script and different objections with them and provide feedback until they are confident. Once you are assured the employee knows the correct process, and is able to follow it, hold them accountable.
Utilize Team and Individual Goals.
Don't be afraid to set lofty goals. Whether your team has had great success with sales in the past or not, new employees do not know what your business' norm is. Set high, yet attainable benchmarks from the start, and that will be what they know. Individual goals allow you track each employee's progress separately and strive to achieve their maximum potential. Team goals help the group work together, and keep the individual competition from running sour. Customer service and sales go hand in hand. If too much individual competition creates a negative environment, that is something the customers will sense. Coach individually, but make it a priority to achieve as a team.
Set Clear Expectations.
Leading a team is a two-way street. You will expect certain things from your group, and they will in turn require certain things from you to succeed. If you require them to follow the specific sales script, make that clear. If there is a certain dollar amount or percentage of sales that they are required to make each week, month, quarter, etc., make that clear as well. Be straightforward about what happens if they do not meet these required sales goals, and after what period of time. In turn, make sure to provide them with real-time feedback and coaching opportunities. This should be a fair agreement where you are each held accountable. Setting expectations from the beginning helps make sure you are supporting your team, and provides you with a clear timeline for determining when an employee is not working out.
Don't Just Manage: Lead.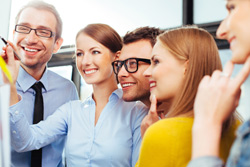 "Management is doing things right; leadership is doing the right things," according to Peter F. Drucker, American Management Guru. As a manager or storeowner, it is your job to make sure the business is moving forward. This means all sales are where they should be, completed correctly, and with happy customers. However, to make this happen, you need to lead your team in the right direction. As a manager, it is easy to tell your employees what to do. There is a better chance of them actually doing it if you show them what to do. Leading by example creates trust between employees and employer. It gives you credibility and demonstrates to employees that what you're asking of them is achievable. Most of all, leading creates a positive environment in which your sales team wants to succeed.
Whether you are looking to brush up on your own sales skills before training others, or can't quite pinpoint how to help one of your team members, use the following general tips to boost individual sales practices:
Tips for Individual Sales Success
1. First and foremost, be knowledgeable and passionate about your products. Before even putting something on your shelf, try it for yourself so you know first-hand what it is like. Allow your sales team to have the same experience. Being able to answer questions, provide recommendations, and offer personal testimonials goes a long way in establishing trust and credibility with your customers. If you love what you're selling, that energy is contagious.
2. Build rapport. People buy from people they trust. Even if it is not about the products, strike up a conversation and keep it going. The more customers talk to you, the more they trust you and your recommendations. Keeping the lines of communication open also help you learn more about them. More information means a more customized product recommendation. More information also helps you address their buying objections down the road.
3. Ask open-ended questions. Asking open questions is one of your most powerful tools as a salesperson. It keeps the conversation going. It also prevents the customer from saying "no." Even if the question is as innocent as "Have you seen this before?" or "Do you live nearby?" Once the customer says their first "no," it is easier for them to say it again. Train yourself to start each question with "how," "why," "where," and "what" so that it requires more than a one-word answer.
As a salesperson, you also never want to push products on anyone if they do not want them. The customer needs to come to his or her own conclusions. Asking open-ended questions such as "how would this help you?" or "how would so-and-so like this?" will help you get a positive response from the customer, and have them say in their own words why they should purchase.