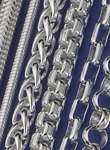 Specializing in Sterling Silver chains imported directly from Italy, Azur Global Imports offers only the best quality products to their retail clientele. For centuries, Italy has been known as one of the best sources of silver jewelry in the entire world. "Due to our buying in very large quantities, we get special prices and discounts. In turn we pass those savings on to our customers, making us one of the most competitive sources in the US," says Walter Rozycki, President. "We offer a wide selection of styles and are flexible with our customers. Whether a customer needs 10 chains or 100,000 chains, we have the resources to deliver the order on time."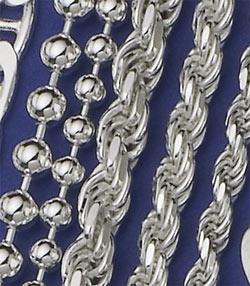 In business for 41 years, Azur Global is able to offer a breadth of selection and styles not available from many suppliers. Azur's top-of-the-line reputation is their number one point of pride, states Rozycki, as their business integrity continues to win their customers' loyalty, year after year. "We attribute this to our business philosophy: first to act as a consultant and not just a seller of merchandise, and second to treat our customers like we like to be treated." In the role of consultant, Azur offers their expertise on the silver jewelry market, the historical and more modern trends, and the understanding of buying seasonality. They frequently share statistics on their best sellers with their clients.
For basic pendant style chains, Azur's prices range from $1.50 – $50, with additional discounts given for large quantity orders. Fancier chains and necklaces range from $5 to over $150 per piece. Azur Global Imports minimum order is $60. For more information, please visit www.azur1.com. To view their collections in person, you'll find Azur Global Imports at the upcoming 2016 Tucson Gem and Mineral Show, Feb 11-14, 2016.