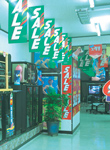 Direct Liquidation, experts in reverse logistics, take in customer returns, end-of-life overstock, and closeouts from tier-one brands, and resell the products across the United States and Canada. Michael Lawrence of Direct Liquidation explains, "We have exclusive contracts to liquidate the nation's largest retailers' surplus inventory. We have millions of dollars in inventory you can't get anywhere else." Direct Liquidation's consistent large quantity supply of high-profile products has made them a favorite among retailers.
Consistency
Unlike many other reverse logistic experts, Direct Liquidation handles all of their electronic product refurbishments in-house. Returned items are treated according to the manufacturer's specifications, warrantied, and placed in retail-ready packaging. Refurbished products have ninety-day warranties to cover any issues with product functionality. With Direct Liquidation, you always know exactly what you are getting. "We have daily availability of all grades of products so you can stay in stock," says Lawrence. Direct Liquidation's exclusive partnerships allow them to regularly stock the same brands and the same products, so you can always come back for more.
Convenience
Direct Liquidation has six warehouses located across the United States and Canada. Each center processes incoming inventory, performs refurbishment, and fulfills orders, ensuring faster turn-around times and shorter shipping. The supplier also sells products in auctions and for immediate purchase, allowing retailers to choose the method that works best for their business. "Most auctions on Direct Liquidation are two day auctions launching Monday, Wednesday, and Friday," says Lawrence. "We don't close any auctions on the weekend. Our system allows popcorn bidding and soon will also allow reverse auction features to further enhance the buying experience on the site. For some of the busier categories such as laptops we generally do one-day auctions. Many auctions also come with a 'Buy it Now' price, allowing users to avoid the auction process and secure the inventory immediately."
Black Friday Deals
Many shoppers search out electronics on Black Friday, as these items are generally in high demand for the gift-giving season and can come with a higher price tag. Direct Liquidation specializes in electronics, offering over fifteen categories of electronics from the nation's largest brands. "Our most popular electronics items on the marketplace are refurbished Apple, Beats, and Samsung products," says Lawrence. "Laptops from Dell, HP, Lenovo and Acer are also hot. Video games and video game consoles from Microsoft, Sony and Nintendo are also generally top sellers for us." Though electronics are stocked and sold year-round, Direct Liquidation recommends incorporating them into your Black Friday planning.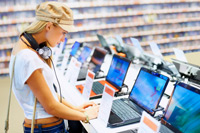 Year-Round Opportunity
In addition to electronics, Direct Liquidation offers over two hundred additional product categories including automotive, furniture, health and beauty, home, home improvement, music, patio, sports, outdoor, and fitness merchandise. "We also sell untested customer return pallets with over forty different sorts available," says Lawrence.
New Customers
For first-time customers or retailers just starting their business, Lawrence recommends purchasing a smaller load to test customer demand and to make sure the experience matches your expectations. When it comes to electronics, "The margins are tighter for the more popular products. Your first instinct might be to say, 'Hey, I want to buy five refurbished iPads, that should be easy to unload.' However, the price point on these products is quite high and the margins are low. You really need to crunch your numbers to find out if there is revenue there for you. There is no doubt you can sell the iPads but can you do so at a profit?" Lawrence cautions. "You need to find a way to distinguish yourself and what you are offering," he continues. "Of course, using online methods and storefronts such as EBay and Amazon make sense but there are a lot of less established places to get eyeballs on your products if you are willing to put in the work such as forums, social media, and niche fan sites to find potential customers." Work on creating a name and reputation for your brand, and finding products that work for you and your margins.
To learn more about Direct Liquidation, visit www.DirectLiquidation.com