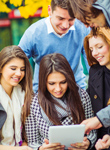 Generation Z are the new kids on the block. The oldest of this demographic group are just starting to graduate from college and enter the adult economy. The exact starting date for this generation has yet to be set in stone, but most agree they are born between the late 1990s through the present. Generation Z currently make up twenty-five percent of the United States population, meaning they are larger than the Millennial and Baby Boomer generations. Only a small percentage of Generation Z are making money on their own, however, their spending power has already reached forty-four billion dollars.
iGen
Though Millennials have been referred to as "digital natives," many of that age group can remember a time without internet or cellphones. Generation Z, sometimes referred to as iGen, are the true digital natives. Many have owned smartphones since a young age, and the internet has influenced all members of the generation since birth.
Since this generation has grown up with the Internet and social media, they are very savvy when it comes to their activity and sharing. Unlike Millennials and Generation X, Generation Z is cautious when it comes to posting photos, making comments, and sharing links. In fact, many have abandoned Facebook altogether in favor of more curated feeds and less permanent photos. Dan Gould, a trend consultant for Sparks & Honey, an advertising agency in New York, tells The New York Times, "As far as privacy, they are aware of their personal brand, and have seen older Gen Y-ers screw up by posting too openly." Instead, many Gen Z members prefer Snapchat, Whisper, and other more anonymous platforms.
The Homeland Generation
Generation Z is not just risk-adverse when it comes to social media. This age group grew up mostly post-9/11 and in the middle of The Great Recession. The parents of this demographic are members of Generation X and older Millennials, the groups who were most severely impacted by The Great Recession. Many of Gen Z's parents lost jobs or sources of income, leading them to spend more time with their children, but also teaching their children jobs are not easy to come by, nor are they guaranteed.
Entrepreneurial and Self-Sustaining
Much like the Silent Generation that was born during the Great Depression, the Great Recession largely impacted Generation Z during their formative years. As a result, this generation is taking their future into their own hands. Entrepreneur reports that as many as seventy-two percent of high school students want to start their own business. Forbes predicts that even more members of Generation Z will earn their four-year degrees, surpassing today's record high of degree-holding twenty-something's.
Although this generation considers higher education important for a successful career, that alone is not enough. Generation Z witnessed their Millennial siblings struggle to find work and pay off student loans after receiving their degree. So, this new generation understands the importance of gaining valuable work experience early on, and building their own source of income through entrepreneurial endeavors. More pragmatic than their Millennial counterparts, Generation Z isn't looking to build a revolutionary invention to make millions of dollars, but rather find a way to monetize their existing interests for some sense of stability.
Good for Small Business
Overall, Generation Z is good news for small business. In addition to starting their own businesses, Generation Z likes to support others with similar goals. This generation likes to make a difference, and see a difference. They favor businesses that work some type of charity or social good into their business strategy. Generation Z is interested in seeing exactly how their purchases support a cause. Having grown up in a world they sense is corrupted, Gen Z is eager to make a difference through every day decisions and purchases.
Marketing to Gen Z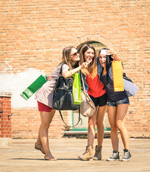 In appealing to iGens, transparency is key. Any attempts to force trendy lingo into marketing will be rejected. This generation also has high standards, expecting admirable business practices, quality products, and affordable pricing. They are less loyal to any individual store or brand, and more willing to look around for the best value.
However, Generation Z does favor in-store shopping. According to Business Insider, Fifty-eight percent of teens like to see and feel products before purchasing. Fifty percent also say they prefer to shop in person to avoid shipping costs. Forty-three percent also say that they like being able to take home the product immediately. Though online shopping is seen as convenient, in-store shopping is seen as more functional.
Happiness is Social
As the first true digital-natives, mobile advertising is the best option for reaching Gen Z. This generation spends much more time on smartphones than any other device. Social media branding is more important for this generation than any other. According to the Center for Generational Kinetics, forty percent of Gen Z members say that social media has a direct impact on their happiness. They will favor companies who can interact with them authentically, build them up emotionally, and speak with them rather than at them. Video messages will be key, with Snapchat being a preferred platform, and ninety-three percent of Gen Z members visiting YouTube at least daily.
Working Within the System
Generation Z is often compared to the Silent Generation, both being born in difficult economic times and changing social situations. Unlike the Baby Boomers and Millennials who like to rock the boat, the Silents and Gen Z are known to be risk-adverse and hard working. Unarguably, the Silent Generation is also the wealthiest generation that ever lived. As history tends to repeat itself, this is good news for economy, businesses, and of course Generation Z as they are on track to become the next wealthy generation.