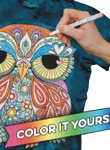 The Mountain, America's Greenest Apparel Company™, has released their newest line of apparel. Colorwear™ is a line of t-shirts with outlines of animals and nature scenes designed by some of the best coloring book artists in the marketplace. Customers who purchase the t-shirts then color in the patterns with fabric markers to create their own unique look. "Adult coloring books have become increasingly popular over the past year, not only for artistic entertainment, but for the mental, emotional, and intellectual benefits," explains Brittani LeBel, marketing coordinator for The Mountain. "Colorwear™ aims to take the coloring craze to another level by letting its customers show off their imaginative conceptions to the world instead of keeping them trapped inside of a book. Not only can Colorwear™ be a solo, therapeutic activity, but has also inspired groups of people to gather together to have Colorwear™ parties."
With each t-shirt, customers will receive their choice of design, a six-pack of Tulip® fabric markers, and a mini board to use as a coloring surface. Like all of The Mountain's products, each Colorwear™ shirt is dyed using organic dyes with designs printed using soft, non-toxic water-based inks. The Mountain also offers a Colorwear™ box program, where the t-shirt and coloring kits come packaged in an eye-catching display box that is shaped like a t-shirt. The kits can be hung on a display rack for easy merchandising.
Colorwear™ gives every customer the opportunity to show their unique, expressive creations by choosing from a vast range of animals, mandalas, inspirational, fantasy, gardens, holidays, and aquatic life themes. Shoppers can choose the design and t-shirt color combination that best speaks to them, and then simply begin expressing their own personal style through coloring. "The Mountain is more than an apparel company, it is an ArtWear company that focuses on telling stories by outfitting its customers in unique, bold designs that help project their personalities and tastes to the outside world. The Mountain believes that people should wear their passion as big and as loudly as possible," says LeBel.
Colorwear™ and the Colorwear™ box programs are available online at the company's web site, wholesale.themountain.com. The Mountain will also be exhibiting at the International Gift Exposition in the Smokes® (IGES) trade show this coming November.