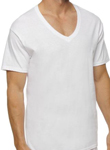 Superior Closeouts is an experienced wholesale supplier based out of the Bush Terminal Building in Brooklyn, New York. With over 20 years of experience, Superior Closeouts and owner Larry Tawil are known for offering affordable pricing on major brands of undergarments and basic apparel staples such as Fruit of the Loom® and Hanes®. Tawil tells Independent Retailer that he also offers harder-to-find yet in-demand brands such as Joe Boxer®. "There's a big market for them, but they're difficult for retailers to stock," he says.
Superior Closeouts is an excellent resource for discount, general merchandise, and dollar store retailers. They specialize in first quality and slightly imperfect or off-price products so retailers can stock up on classic basics at the price that works best for their store. "Our best-selling item is the Hanes® 3-pack of white t-shirts," says Tawil. "That's the bread and butter of any retailer who is in this business." Tawil says Superior Closeouts works with such large volumes that they can beat out any competitors on price. They are also flexible with ordering. "We can tailor the order to match the buyer's needs. We can break cases and we have flexible minimums. We're not looking for a one-time sale, we're looking to build a relationship."
Superior Closeouts is constantly bringing in new shipments and seasonal products. For the summer, tank tops, sleeveless shirts, undershirts, and boxer briefs are hot sellers. Tawil encourages any retailers in the greater New York City area to stop by their warehouse, see the products in person, and build a custom order. Superior Closeouts also ships nationwide. For more information give Superior Closeouts a call at 718-422–1110 or visit www.wholesalecentral.com/superiorcloseouts.