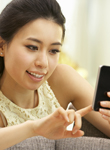 By Donna Henderson
Creating content for social media may be a daunting task. You must maintain the right balance between what an audience wants to see and what you want them to see. It's no secret that visuals are a key to engagement and interaction on social media. Visuals on social media come up in numerous forms: infographics, images, videos, quotes etc.
Visual content affects how your audience receives your message from your social media marketing campaign. You may have it heard many times that a picture tells a thousand words.
The Best Ways to Create Stunning Visuals For Social Media
The latest research has proven visual advertising to be more enticing and the root cause of enhanced visibility and traffic on social media channels and company websites. The reason behind the rapid popularity of visual content is the growth of apps like Snapchat, Instagram and Pinterest that are smart and offer much more than text.
Keep in mind that creating an engaging visual strategy for your business demands investment in both time and effort. We have compiled a few ways to create strong visuals for social media posts.
Choose Your Networks:
The first thing you need to do for creating amazing visuals for social media posts is to choose the right network on which to build a strong presence. Facebook, Instagram, Tumblr and Pinterest are the top visual networks.
A visual presence can be built on social media channels i.e. Google+ and Twitter, too. You can choose two or three social media networks to begin, testing to see where your response is strongest. It is advisable to build a strong presence on social media networks where your audience can be found.
Make Your Accounts Visually Appealing:
It is imperative to fill your social media accounts by adding an appealing profile and cover images. It will help you attract a wider audience towards your brand.
Create An Image Posting Strategy:
Each social network attracts a different kind of audience, so you need to create unique images for all platforms. It's not a wise strategy to publish the same image on all your networks. Some business owners may choose an outside company to create a solid image posting strategy to increase online exposure, but you can also do this yourself.
Wide Range of Content:
Using the same type of graphics over and again will bore your audience. It is advisable to use a variety of images such as quote graphics or infographics to attract your audience.
High-Quality Stock Images:
In order to encourage people to like and share your content, there is no better way than using high-quality images. Your images are a reflection of your business. Consider making a small monthly investment with a photo stock house to add better pictures and build a great reputation for your business. Make sure that you choose professional images for your company.
Use Personalized Content:
Try to add images that give a face value to your brand. People love to interact with you when they are able to see you and understand your business. It is advisable to create a separate album on social media channels that focus only on your employees and their work. Make sure that you promote your success story to gain credibility and authority in your industry.
Text Fonts:
It is great to use the fonts that match your brand's personality and don't look off-base when used on the images. Clarity is key here if you can avoid using overly curly or stylized fonts.  
Infographics:
Infographics may include charts, tables, and graphs to depict complex data in an organized manner. Users love to see infographics as they save time and effort and they don't need to read the text to understand your brand or business.
Final Words
In the past few years, visual content has gained massive attention. Visual social media posts are a key to engage prospective customers with your brand personality. Are you incorporating visual content into your marketing strategy? Try it and see what happens!