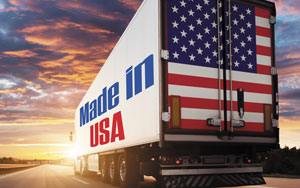 The COVID-19 pandemic created a situation where customers had little choice but to shop online, which caused a number of mission-critical challenges for retailers. From closing their doors and enforcing safety precautions to moving most of their business online and being met with delayed delivery times, many businesses are still trying to recover from the tribulations.
"Numerous industries across the supply chain have been impacted by COVID-19. Production plants and businesses have been forced to shut down, resulting in disruption of distribution," Paul Isaac, Senior Vice President, Global Risk Solutions at QBE North America, said. "During the pandemic, supply chain troubles have included parts shortages, factory shutdowns, and increased freight costs. Many companies are still having trouble acquiring the materials needed to make products and are struggling to ship their products to stores and wholesalers."
Flaws in the Supply Chain
The pandemic is not the main cause for all of these issues in the supply chain. According to Adrien Nussenbaum, co-founder and co-CEO of Mirakl Inc., these problems started before COVID and have simply accelerated due to the pandemic. There was a time where consumers drove to stores and were limited on what they could find inside. As more buyers became digitally enabled, they could now purchase everything, anytime, and anywhere. Since COVID only spiked the demand to buy online, the ability that retailers have to come up with ways to be more reactive to trends and evolving customer demand is very important to survive beyond the pandemic.
"Largely the cost of shipping continues to rise for parcels, so this is a headwind that needs to be mitigated with better order sourcing rules," Zach Zalowitz, Director at enVista, said. "However, the other challenge is that Gross Margin Return on Inventory Invested is eroding because inventory is sitting in 'stale' locations and the more seasonal products are at risk of being marked down or liquidated. Operationally, these challenges are around implementing store fulfillment, specifically BOPIS and curbside, while maintaining current staffing levels in store as the role of the store continues to change."
Small Businesses & the Supply Chain
Even though retail conglomerates such as Amazon and Walmart have much more funding and resources to be able to deal with issues such as those that the COVID-19 pandemic brought along, many experts believe that small businesses do not feel the burden as hard as the larger businesses do. Brett Rose, CEO of UNCS, says smaller retailers are more agile whereas larger companies are very planned out and may not be as flexible when it comes to purchasing a considerable amount of merchandise.
How Indie Retailers Can Survive
"Customer expectations today center around on-demand and affordable delivery. In other words, the growth of ecommerce is driving a delivery-first world in which customers expect their products to be delivered within hours, not weeks," Chris Jarvis, Chief Logistics Officer at GoFor, said. "Retailers need to rethink how they use physical environmentals to adapt to a fast-moving ecommerce landscape. This means managing accurately and in real-time to allow fulfillment from brick-and-mortar stores, and maturing new processes to engage customers through a combined online and local experience."
Isaac says that companies across the world are set to make significant changes to the way they source and distribute goods due to COVID-19. Currently, 80 percent of all goods are shipped by trucks, with eight percent shipped by air and less than five percent shipped by rail. As the trucking industry grapples with the fallout from the pandemic, businesses are finding the need to diversify their distribution channels to reduce the dependence on trucking. In some situations, retailers may be adding additional suppliers for redundancy and resiliency.
There are also multiple different companies that can help small businesses with supply chain issues. Salesfloor, a mobile application platform designed for store associates, has helped retailers fight through the pandemic. The ability to leverage virtual selling through the Salesfloor platform has allowed businesses of all sizes, from Bloomingdales to Peruvian Connection, to broaden their client-base, "smart" serve and target customers, all while staying afloat and transforming retail during the pandemic. Another great resource is WholesaleCentral.com, a free online directory for retailers to find wholesale companies. If your normal supplier is experiencing significant delays in the supply chain, hundreds of wholesalers are available at the click of a button and organized by product categories.
Buying Made in USA Can Save the Day
Customers today are increasingly looking to shop local and support more sustainable businesses. Jarvis says locally manufactured products can help retailers bypass congested ports and shipping lanes in the near term and satisfy customer demand. Putting inventory within reach of the final mile creates faster logistics options for businesses of any size that use a scalable, asset-free approach to delivery.
"We are finding that more products are being offered from U.S. manufacturers than ever before," Rose said. "The push to have more things made in America is fantastic. You can buy great plastics from the states, and while a retailer is always looking for the cheapest price, Made in USA products are free from tariffs, which is a competitive advantage, and the quality is superior".
Supply Chain Challenges Are Not Going Anywhere
According to Zalcowitz, these challenges accelerated by the pandemic will be around for the long haul. The issues were only just popping up because COVID has made retailers stop and think about what capabilities they lacked and also has expedited the trend of a move towards ecommerce growth and the shift from retail store sales to online purchasing.
"Global and local retail supply chains will be completely re-engineered over the next three to five years as ecommerce demand grows. Retailers are pivoting to digital-first shopping experiences and recognize the need for local inventory to allow for faster delivery. Although it will take time for the upstream suppliers and system infrastructure to evolve to this new objective, retailers can begin transitioning now with the on-demand delivery solutions that allow integration with front-end ecommerce, point-of-sale and ERP software to digitize quickly and service local customers with the fulfillment speed they expect," Jarvis said.
Now that retailers have a better grip on the supply chain challenges to expect this year and how to get around them, here are hot and trending products from reliable suppliers that are ready to ship today. Less wait times and the same great bargains!
CBD Full Spectrum Vitamin C Cream
Leave it to this premium Vitamin C Cream to brighten up the skin. The incredibly hydrating formula is infused with antioxidant-rich Vitamin C, a secret to perfect skin. Powered with a full spectrum of CBD's anti-inflammatory properties, this collagen-promoting super booster will help reduce fine lines and even out redness in the skin, leaving users with a beautiful glow. Perfect for all skin types.
Nature's Wealth
Tel.: 833-223-6370
www.natureswealth.com
French Lavender Mist
Floral and fresh, lavender is traditionally associated with calming and nurturing. Use this mist to prepare any space for sleep and relaxation, as well as to neutralize stress. Made with a traditional blend of essential oils in filtered water and polysorbate-20, an emulsifier derived from coconut, this formula is based on traditional and time-honored associations that are mindfully crafted with intention in mind.
Sun's Eye
Tel.: 800-786-7393
www.sunseye.com
Coronavirus Prevention Checklist Candle
Ready for some laughs? Check out the fun candles by Malicious Women Candle Co. Beautifully scented and earth-friendly, these handcrafted soy candles are natural and burn cleaner than traditional paraffin candles. Plus, the vintage apothecary-style jars they come in can be used as home decor once the candle fully burns or can be recycled. This candle offers a crisp cotton scent, filling the air with a smell that is so clean that you will (almost) regret not running a load of whites.
Malicious Women Candle Co.
Tel.: 360-294-8295
www.maliciouswomenco.com
Mineralgia
This natural pain relief cream, developed by prominent Southern California chiropractor Dr. Brigitte Rozenberg, could not be timelier for those who have been experiencing "tech neck" and work-from-home-induced aches and pains. Made in the U.S. and ready-to-be-shipped, this doctor-formulated and FDA approved cream can be used for acute and chronic pain, sore muscles, headaches and migraines, arthritis, tendinitis, and inflammation.
Mineralgia
Tel.: 800-757-7582
www.mineralgia.com
Zum Spa Set
Featuring Zum Oil, Zum Glow (aromatherapy soy candle), and Zum Tub Bath Salts, you can bring the spa right to your customers. These products are chemical-free, safe, and contain deliciously scented natural essential oils for the ultimate relaxation after a hard day at work.
Indigo Wild
Tel.: 800-361-5686
www.indigowild.com
TigerLyfe Energy Drink
Completely made in the USA, this clean energy drink contains B-vitamins, potassium, filtered carbonated water, and does not contain artificial colors or sodium. With only 100 calories and 24g of carbs per can, your customers can feel good about grabbing TigerLyfe Energy.
TigerLyfe Energy
www.tigerlyfeenergy.com
Miami Harem Jogger Pants
Your customers will be more than ready to relax in these super comfy joggers. Available in 4 solid colors and 2 prints, each pant comes with a beige cotton satchel. These pants will be your customers' travel ready companion, wearable with anything from sandals to heels or even barefoot.
Buddha Pants
www.buddhapants.com
Birds of Paradise Candle
Hand poured in Colorado, this tropic-inspired candle has uplifting citrus, tangy mango, and fresh honeysuckle to invigorate your senses. Nothing is more relaxing than a candle, and this one is made with exclusive Illumaduo® wicks, which combine the relaxing crackle of a wooden wick and the strength and stability of a cotton wick.
Pearl Street Lights
www.pearlstreetlights.com
CBD Tinctures
Made from 100% organically grown industrial hemp, Nature's Root CBD Tinctures are the perfect way to experience the benefits of hemp in a way that is convenient to use and also tastes great. Available in four different flavors: Amber, Peppermint, Cherry Blossom, and Orange Spritz.
Nature's Root
Tel.: 720-600-6948
www.naturesroot.com
Twelve Pocket Greeting Card Countertop Display
Twelve different greeting card designs come in this small countertop display, including for a birthday, thank you, general anniversary, love, get well, sympathy, and a blank note. All cards, along with the display, are made in the USA and free shipping is included in your order.
Stockwell Greetings
Tel.: 877-906-2211
www.stockwellgreetings.com