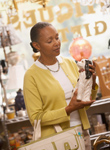 By Don White
Holiday shopping season is right around the corner, and while you've probably thought through things like testing your online site and what special offers you'll promote, how much consideration have you given to your order fulfillment processes?
Now is the time to put your peak season planning into gear and zero in on the last mile of the supply chain. It is arguably one of the most important areas of your business and critical to surviving the holidays.
Perfect Your Processes
Before you can go forward with peak season order fulfillment preparations, you should go backwards and really evaluate how your processes have been performing up until now.
Ask yourself questions like:
Does my business suffer from chronic out-of-stocks?
Does my warehouse team often not know where inventory is placed?
Is the warehouse often over or under staffed?
How many orders/lines per day does the team achieve normally?
Does my business often struggle with costly shipping errors and unhappy customers?
If your answers read like affirmations of inefficiency, or you don't have enough visibility into your processes to honestly answer – it's time to make some adjustments.
To perform at your best, you need to rely on information to forecast what's ahead and devise an accurate plan. With a few months remaining before Black Friday, put systems in place — like warehouse management software — to get a better handle on your order fulfillment needs and work as methodically as possible. According to Internet Retailing and eDelivery, many retailers that implement a cloud Warehouse Management System (WMS) see at least a 30 percent improvement in productivity and efficiency.
Keep an Eye on Inventory
Inventory is one particular area of order fulfillment that's pivotal to your peak season success. As an independent retailer, understanding how much inventory you need or don't need is vital to keeping your business afloat. One false move here can cost you thousands in unused overstock or leave customers frustrated dealing with out-of-stock merchandise and back orders.
According to a 2016 survey conducted by Bain & Company, customers experience more stockouts closer to the holidays. Here's the breakdown: 35 percent in October, 39 percent in November, and 43 percent in December.
To keep up with consumer demand it is important you understand what's a hot seller, what's not, what sales have been like recently, and what sales were like in the previous peak season.
Holiday buying can easily change the product mix. Reviewing last year's data from your warehouse management system is a good way to spot and prepare for these trends. Combining these metrics with cost of order processing, potential capacity constraints, and anticipated seasonal promotions that impact operations can help you develop a model that is both timely and indicative of expected activity.
Staff for What You Need
Like inventory, effectively managing labor is a delicate dance that requires insight into and analysis of warehouse performance and demand, especially during peak periods. According to Wall Street Journal® reports, retailers, and the warehouse and logistics firms they compete with for seasonal labor, started searching for temporary workers in August last year.
Now is the time to take a hard look at staffing needs, and potential alternative ways of addressing peak demand. Adding staff isn't always the right solution and as an independent retailer it may not even be an option. Planning for additional shifts, developing an extended-hour labor plan with incentives, and cross training employees offers more flexibility for fulfillment tasks when you need it. Investing in warehouse management technology now can help you invest more wisely when it comes to managing labor.
Remember, What Happens in the Warehouse Stays with Your Customers
Yes, turning your attention to inventory, labor, and warehouse layout now will save you from headaches during peak season, but ultimately it will spare your customers a lot of inconvenience. Out-of-stocks and slow turnarounds can tarnish your reputation with customers, and that's the last thing you need as an independent retailer. Putting these tips into practice will help you give your customers the gift of great order fulfillment this year.