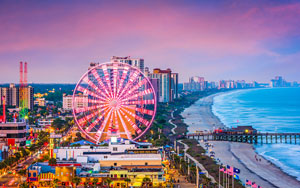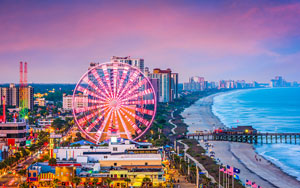 Known in the retail industry as "The Big Kahuna," Clarion UX's Grand Strand Gift & Resort Merchandise Show holds the distinction of being the largest and longest running coastal souvenir and resort trade show in the United States. Now in it's 36th year, the show attracts vendors offering the best selection and name brands sought after by specialty gift and resort retailers as well as the vacationing customers they serve all year. Once again gracing the Myrtle Beach Convention Center in beautiful and temperate South Carolina, the show will be held from December 2 – 5, 2018.
The show management team has been hard at work adding many new exhibiting companies, and retailers are sure to find their returning favorites as well. Many vendors including UR Stickers, Heritage Puzzle, EMI Sportswear, Nextway USA, Sailorbags, and Universal Souvenir Company will be represented at the show. Retailers interested in seeing the full roster of exhibiting companies can visit www.grandstrandgiftshow.com and may also view a special Show Preview Guide by clicking on the Product Highlights link on the website.
The Grand Strand Gift & Resort Merchandise Show is a must-attend event for east-coast regional resort and gift retailers. With the ease and convenience of a regional show, retailers can stock up on all their seasonal needs in just one stop — and in the beautiful locale of Myrtle Beach, South Carolina. With a wide selection of the most popular and best established product lines, as well as a host of new product introductions, the Grand Strand Gift & Resort Merchandise Show allows buyers to visit with trusted vendors new and old, while enjoying networking opportunities in a scenic and relaxed setting. For more information about registering for the upcoming December 2018 show, please visit the website at www.grandstrandgiftshow.com, or follow the show on Facebook and Twitter.
Grand Strand Gift & Resort Merchandise Show
December 2 – 5, 2018
Myrtle Beach Convention Center, Myrtle Beach SC
Tel.: 800-318-2238
Website: www.grandstrandgiftshow.com
Facebook: www.facebook.com/GrandStrandGiftShow
Twitter: twitter.com/grandstrandgift
Hashtag: #GSGiftShow
About Clarion UX
Founded in 1995, Urban Expositions, now operating as Clarion UX and owned by Clarion Events, produces and manages a portfolio of 36 trade and consumer events, serving a range of industry sectors including Gift, Souvenir, Art, Aviation, Apparel, Foodservice, Specialty Retail, Gaming, Automotive and Enthusiast Lifestyle, with offices in Kennesaw, GA, Trumbull, CT, Portland, OR, and Boca Raton, FL. www.clarionux.com