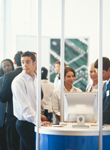 As consumer product discovery continues to shift online, it makes sense that more and more retailers find their products online too. Yet, trade shows are still an essential aspect of the retail industry. There are many advantages to attending shows. For small businesses, they are a great way to keep your finger on the pulse of our industry and connect with experts and thought leaders. Of course, trade shows are also crucial for spotting trends and new products. Here are five other reasons why shows are important for growing your business.
Find New Products Before Anyone Else
Trade shows are a great place to scout emerging designers and startups. Newer companies looking to break into the wholesale scene often use shows as a business catalyst. There's no question you can find many great products online, but there's also no question that you will discover great brands at these events that you otherwise wouldn't come across.
Many well-known wholesalers also use trade shows as an opportunity to launch new designs and product lines. Unless you stop by their show booth, you might miss out on a great collection.
Test Quality Firsthand
Just like your retail shoppers love being able to experience your store in-person, experiencing a wholesale brand in-person is a great way to feel out whether the products would be a good match for your store. You can feel the product quality first-hand and have one-on-one conversations with the designers so they can really get a good feel for your store and your customers.
Build Networks
Sometimes a successful business is all about having the right support system. Trade shows are an ideal space to meet other business owners, swap ideas, best practices, and collaborate on projects. Owning a small business is a unique experience, and sometimes hearing others stories provides useful insight.
Scope Out Competition
Trade shows and conferences are one of the best ways to get an inside look at what other retailers are doing to drive growth. Conferences such as the NRF BIG Show, ShopTalk, and Shop.org give attendees insight into new retail technologies and strategies of larger retailers. By attending these shows independent retailers can mingle with other retailers of all sizes and stay abreast of what's new in our industry.
Get Advice!
In addition to conferences like ShopTalk, almost every merchandise trade show has some type of educational component. For example, ASD Market Week hosts the Independent Retailer Conference with seminars designed to help indie retailers grow their business. With the right planning, you'll leave an event not only with great new merchandise but also actionable business insights.
Though blockbuster trade shows such as NRF and ShopTalk get the most media attention, you don't have to break the bank to get a full trade show experience. Regional shows have all the same benefits with the advantage of being closer to home. For our annual trade show issue, we've gathered a premier list of the best retail shows. For a complete list of trade shows, check out our Trade Show Calendar on WholesaleCentral.com.