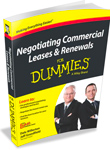 By Jeff Grandfield and Dale Willerton – The Lease Coach

As we advise in our book, Negotiating Commercial Leases & Renewals FOR DUMMIES, from your standpoint as a tenant, paying a security deposit confers no benefit. It ties up your money – money that many landlords try hard not to refund to you if you don't renew your lease. From a landlord's perspective, a security deposit makes perfect sense as it gives them a chance to recoup some of the money spent on bringing in a new tenant.
With that said, remember that the amount of the deposit and when the deposit is applied are negotiable points within the lease just like any other term. If you are an existing independent retailer tenant looking to move or retire, remember to talk to your landlord before your lease expires and ask for your deposit to be returned in its entirety as soon as you vacate the premises. We recommend that that you ask your property manager about the landlord's process for refunding deposits three to four months before your lease expires. Ask these questions:
Does your landlord require a letter or an invoice?
On the last day of the lease, will there be an exit viewing and walk-through of the premises to ensure there is no damage?
What should I do to ensure the full refund of my deposit? Do I need to surrender the keys or have the carpets professionally cleaned?
Commercial landlords may have any number of excuses for not refunding your deposit. While these may be true, you can't determine if there will be a problem if you don't ask before you move out of the premises. The following reasons can be valid for a landlord to retain some, or all, of your damage deposit:
You have damaged the premises.
You didn't remove your leasehold improvements.
You have removed leasehold improvements that the landlord wanted you to leave behind.
You owe Common Area Maintenance (CAM) charges from that year.
You did leasehold improvements to the premises without landlord consent or knowledge.
You have sub-leased or assigned the lease agreement without landlord consent.
You didn't remove your building signage.
You didn't do requested repairs.
Remember, your landlord may have whittled away at your deposit over the years of your tenancy for small rental incidentals or items invoiced to you that you didn't pay. If your building has been sold since you first leased commercial space inside, the new landlord may claim he doesn't have your deposit, as the previous landlord never passed it along.
If your landlord has your deposit, your next step will be to check your lease agreement. This may state the amount of time that the landlord has to refund your deposit. If this is not mentioned, you can ask for a refund of your deposit within ten days of your invoice to the landlord.
Following your invoicing the landlord (do so in writing to create a paper trail), call the landlord's accounting department and ask how your deposit refund will be handled. You may likely hear one of the following responses:
Your full deposit is refundable and will be returned to you by a specific date.
Your deposit was applied to one of the previously-stated points and you'll receive a statement of account, meaning that you may still owe money to the landlord.
The landlord has a cash flow problem and can't return your deposit yet (yes, this does happen – the landlord is broke).
If your refund will be delayed, you do have some options:
If the landlord's reason is poor cash flow, you may want to obtain a legally enforceable payment plan in writing from the landlord. Getting back your money over a period of time is better than getting back no money at all.
Lawyer up: This process, however, could be long, drawn-out, and expensive if the case eventually goes to court.
File a small claim action against the landlord, depending on jurisdiction.
You can also hit some potential pitfalls with your security deposit when renewing your lease. These can include the following:
Even if you do not pay a deposit up front when you sign your initial lease, the landlord may try to add a deposit clause to your lease renewal.
If you do pay a security deposit, the landlord may try to keep the deposit for a longer period as part of your renewal.
If your rent increases with the lease renewal, the landlord may also ask for an additional deposit – arguing that your deposit was based on your monthly rent … as this has now increased, so should the amount of your deposit increase as well.
If you encounter any of these situations, be prepared with your response. The strongest argument for you during a lease renewal is to demonstrate that you're a proven, low-risk, rent-paying tenant. If you can point out that you've never missed a rent payment and are little risk to the landlord, they will have little justification to require a deposit (or increase your deposit) during a lease renewal.
Contact us for a copy of our free CD, Leasing Dos & Don'ts for Commercial Tenants.