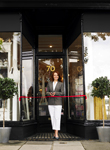 It is 2017 and not even the retail industry is safe from fake news. We have all seen the headlines declaring a "Retail Apocalypse" and that "Retail is Dead." The truth is, people will always need to buy stuff and there will always be a need for someone to sell it to them. Every few years, or perhaps every few decades, technological advances disrupt the status quo of a once almighty industry.
As the Buggles declared in 1979, "Video Killed the Radio Star," and television was changing the entertainment industry as we knew it. Radio is still alive and well today, as is, of course, television. It was also said that e-books would be the death of paperbacks, but that was also proven false. For years, journalists have cried that ecommerce would be the death of brick and mortar, culminating this year with the declaration of an apocalypse in the retail sector.
The Reality Behind the Headline
As the saying goes, all rumors start with some kernel of truth. Joe Brusuelas, chief economist for RSM, tells Independent Retailer, "When you hear pundits talking about the 'retail apocalypse' they're talking about the decline in share price of publicly held retailers. They are not talking about the entire industry." Big box stores and national chains are having a hard time keeping up with shifting consumer demands and rapidly evolving technology. "We're halfway through a painful structural transformation of the retail market," continues Brusuelas. "It's not the number of stores that are necessarily changing," says Brusuelas. "It's the composition of stores and the different approaches they're taking to adapt to the structural transformation that's changing." But, the truth is, says Brusuelas, "What's actually happening does not corroborate the 'retail apocalypse.'"
The Whole Story Behind Store Closures
As Brusuelas notes, we are in the middle of a complete overhaul in the retail industry. Department stores and box stores who have kept the same approach to business for decades are finally being forced to keep up with consumer preferences. Brusuelas says 80 percent of the overall economy is based on services. It makes sense for retailers to fold into that market, and offer an experience in addition to products. Omnichannel was the buzzword of 2016, but we are only just beginning to realize the true potential of utilizing the strengths of different retail spaces, environments, and touchpoints to form a more fluid and unique experience that is consumer driven rather than retailer-driven.
As a result, many retailers are restructuring and piloting new experience-driven stores. Nordstrom® just opened a new format store called Nordstrom Local®. The new concept offers plenty of refreshments like wine, beer, handcrafted espresso drinks, and cold pressed juices in addition to services like manicures and tailoring, and personal stylists. Customers can also pick up online orders and return merchandise. The store has everything, except for racks of clothes. Nordstrom Local® doesn't have any physical merchandise for purchase. The stores are meant to be more of a neighborhood hub, offering customer service and experiences to help shoppers build a better emotional connection with the brand. Nordstrom Local® is not just an isolated idea, but an example of the larger changes happening in brick and mortar retail. Stores are restructuring — not dying.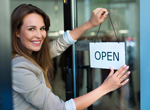 The Retail Apocalypse as Alternative Facts
Store closings have made national headlines all throughout the year. But, the reality is that more stores have opened than closed in 2017. NRF reports a net increase in store openings of over 4,000 in 2017. For each company that closed a store in 2017, 2.7 companies opened stores. Brusuelas adds that retail has had a long-term growth average of over three percent since 2014. "Things are good. Better than they've been in a long time."
The truth is, 16 retailers account for 48.5 percent of the total number of store closings. As the headlines have told us, it's legacy department and chain stores that are shutting some doors. In other words, the stores that are closing are familiar household names.
Mark Mathews, vice president of research development and industry analysis for the NRF tells Independent Retailer, the retail apocalypse "is just an easy story to report. You see big brands going bankrupt and it resonates. What people don't realize is if you look at the largest bankruptcies in the U.S., it is companies you've never heard of. We associate with and know retail names so when they go bankrupt it resonates. And every bankruptcy in retail supports this existing apocalypse narrative." Mathews continues, "Bankruptcies happen all the time across all industries. However, retail brands resonate stronger than, for example, oil and gas companies whose names we don't recognize. We have relationships and emotional connections with major retailers." In other words, store closing and bankruptcies for publicly traded retailers capture media attention because we have an emotional connection to the brands. Not because it's the whole story.
Making Indie Retail Great Again
NRF reports that 78 percent of consumers said they're shopping at brick and mortar stores just as much or more than they did a year ago. 49 percent of millennials also said they're shopping more in stores this year compared to 2016. The difference is the stores and brands people are shopping with are changing. Mathews explains, "Customers have the ability to switch from retailer to retailer and brand to brand in a way that wasn't possible a few years ago."
Technology innovations certainly mean higher consumer expectations but coupled with shifting loyalties, it also means the barrier to entry for independent and startup retailers have never been lower. Mathews says, "98 percent of retail businesses have fewer than 100 employees. There are many small, innovative, and fast growing retailers. However, the publicly traded retailers are capturing most of the news. The focus should be on innovative brands and the up and coming retailers." Brusuelas echoes this sentiment, saying, "If you look around, you can witness healthy spending. Hotels, airports, are all jam-packed; this is an economy on the move. But the spending is not necessarily happening at large retail giants that are publicly held. If you take a step back and look, that's good for indie firms. That's what you want to see: a rise of new privately held companies that are outperforming," The apocalypse may be coming for a few legacy retailers who have not been able to hold consumer interest. But, the retail industry, and the independent businesses that make up 98 percent of the industry are thriving. The answer to the retail apocalypse "is very clearly 'no,'" says Mathews. "We've spent a lot of time explaining the data set to people, and you need to take the headlines you see with a grain of salt. There are many successful businesses out there, and it would be great to hear from them."