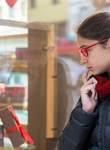 Seasonal creep is a disease that has long plagued the retail industry. From holiday decorations inching into October and pumpkin spice cropping up in August, our industry, and its consumers, is not known for our patience. Black Friday is no exception. Retail's busiest day of the year often comes with exclusive sales and limited inventories. Customers race to get the best deals and retailers push to make the most sales.
The term "Black Friday" can be traced as early as 1961 in Philadelphia, where residents used the phrase to describe the increase in pedestrian and car traffic on the day after Thanksgiving. Twenty years later, "Black Friday" entered popular vernacular. For many retailers, Black Friday was the day they started to turn a profit. In other words, profits went from "in the red" to "in the black."
In recent years shoppers have lined sidewalks waiting to get their hands on the best Black Friday deals. To meet consumer demand and increase profits, retailers began opening earlier and earlier on Black Friday morning. Eventually, many retailers opened their doors on Thanksgiving Day.
After years of Black Friday Creep, retailers are torn on whether or not to open on Thanksgiving for a number of reasons. Earlier this year, RetailWire discussed the various reasons for and against opening on Black Friday. There is the human aspect of allowing employees to spend time with their families and the boost to your brand's reputation that can come with the decision to stay closed. With the convenience of e-commerce, more and more people are also choosing to shop from home that day. What's more, RetailWire reports, Black Friday is losing steam overall, with only 35 percent of shoppers who plan to shop during the week of Thanksgiving, shopping during Black Friday.
One RetailWire panelist, Phil Rubin, CEO of rDialogue, says "Retailers suffer from FOMO (fear of missing out) just like people do. The object of their FOMO [is] … revenues." Retailers are too scared to risk losing sales to competitors to close early.
Another panelist, Paula Rosenblum, a managing partner at RSR Research, states, "Staying closed on Thanksgiving is more than just 'good PR.' There is NO evidence that opening on Thanksgiving provides any increase in sales, and in fact, there is lots of evidence that it decreases profits. If you think that opening on Thanksgiving is going to save your business, you have some serious problems to address. There are years of data that tell us it will not save your business and it's probably not going to help it. It could hurt it, or at best be neutral. It also really messes up the demand curve."
In favor of staying open on Thanksgiving, Phil Masiello, founder and CEO of Hound Dog Digital Agency says, "From a consumer perspective Black Friday deal shopping has become somewhat of a sport and event. Therefore, I do believe that many retailers will capitalize on this 'sport shopping' on Thanksgiving. Especially the retailers who are struggling and grasping for any sale possible."
Overall, if staying open on Thanksgiving is going to make or break your sales, then there are underlying issues that need to be addressed. Those few hours of sales might give your bottom line a jump this holiday season. But the positive PR that comes out of doing the right thing' will stay with your brand year after year. Give your employees the day off to spend with their families so they are happy, rested and ready to perform well on Black Friday.