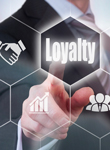 Macy's® recently introduced a new loyalty program in hopes of boosting sales and winning back straying shoppers. The new program focuses on giving their most loyal shoppers the best rewards. One of the program perks is giving those who spend $1,200 or more a year 5% back on whatever they spend as store credit and free shipping. Customers spending $500 to $1,200 a year will receive free shipping and all program members can use Macy's® 25% off coupons whenever they want no matter how much they spend. Exclusive early access will be introduced in 2018 among other rewards. Macy's® wants to simplify their loyalty program and retain their most loyal customers while still offering perks for less frequent shoppers.
After the reveal of this new program, Independent Retailer spoke to Dave Andreadakis, Kobie Marketing's chief strategy officer. Kobie Marketing has over 25 years of experience in the loyalty program industry and Andreadakis has contributed his expertise to USA Today and many other media sources. Below are his insights:
Independent Retailer: What does Macy's have to do to execute their new loyalty program efficiently?
Dave Andreadakis: The first step they want to take is to communicate the program update to loyalty and card members in a timely, informative way. This means something different to every retailer and should be based on the ways your customers prefer to communicate. Behind the scenes, they'll want to make sure they deliver as promised, which in this case means rolling out the multi-tender option in January and making sure the exclusive perks promised to top-tier members live up to expectations. It's also a great time to call out other company benefits that they don't always get credit for.
IR: What will shoppers find most beneficial from the program and what will motivate new customers to shop at Macy's?
DA: Put simply, convenience and rewards that are worth achieving. So many programs miss a fundamental rule of sales: focus on the benefit, not the feature. For example, the new program offers free shipping to mid-tier and top-tier members, and come January, it will allow customers to pay and redeem beyond the credit card program — mending the fractures in collection and redemption that often occur with a card-only store rewards program. And it doesn't hurt, of course, that Macy's new program offers exclusive perks and tiered status — a tactic that works very well for airlines. Customers certainly value convenience, but they also prize non-monetary, experiential perks like free shipping and member-only events that go beyond simple dollars-off rewards.
IR: How will this loyalty program affect other retailers? Will consumers expect more from every store now?
DA: Consumers already expect more, not least because of online juggernauts like Amazon.com and Overstock.com. They must realize that they aren't competing on price with these big-name e-tailers. Instead they should really be focusing on convenience and improving the in-store experience, especially as consumers from all demographics continue to shop online more. Aside from your product or service, it's the experience you deliver and how you make the consumer feel that matters and creates true loyalty. In fact, they should leverage that store experience and find ways to introduce this type of touch earlier in the buying cycle. That's the advantage online retailers can't touch.