By IvyLee Rosario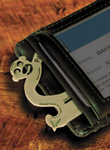 What started as an idea for a tool to get into the house when you are locked out, has turned into a multipurpose product from a bottle opener to a ruler. The Pocket Monkey made by Zootility Tools is a revolutionary product that can be used for everyday purpose without the hassle of needing to carry around a toolbox.
Started in 2012, creator Nate Barr was tired of using a credit card to break back into his own house. He started with an idea of something small and compact that not only could fix his reoccurring problem, but also prove to be a solution to everyday hiccups that other people were facing as well.
"This is something from which everyone can benefit," said Chris Bent, Marketing Manager at Zootility Tools. "It is something small that you can throw in your wallet or purse and just forget about until you need it for any of the twelve functions it offers." The Pocket Monkey can be used as a phone kickstand, a bottle opener, a door latch slip, a ruler, a letter opener, an orange peeler, a hex wrench, a straight edge and three different screwdrivers. The product is also lightweight, ultra thin and TSA approved, so it will never be taken away from you during security checks at the airport, unlike normal pocketknives.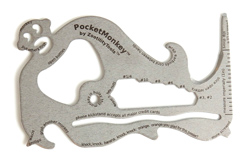 Two years later, Zootility Tools has expanded into eight employees and a 4,000 square foot space with a connected retail store in front. With twelve starting functions, customers are now sending in new ideas on how they use the Pocket Monkey. "One customer figured out that the two arms of the monkey make for a perfect headphone wrap, and now that is another official use," enthuses Bent. "We now have over sixty-five recorded uses and are actually having a contest where customers go online and submit their use and we pick one a week to give a golden Pocket Monkey to."
Zootility Tools is working on several new products, including two different knives and a credit card style product with larger screw heads, a bottle opener and a chip clip. "Nate really thought about everyday use cases while designing this. Certainly it is not going to replace an entire toolbox, but no one needs that everyday," said Bent. "You need a tool that you can use frequently, something that will give you peace of mind to have with you."