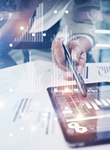 By Jake Weatherly
E-commerce is growing fast, accounting for nearly $123.6 billion in revenue for the fourth quarter of 2016. This growth has triggered a paradigm shift in how retailers connect with customers and grow their businesses. Gone are the days of window signage and holiday sales being the most effective tool for getting an extra boost in traffic and sales.
According to a study published in February 2017 from Monetate, nearly 79 percent of organizations that exceeded revenue goals have a documented personalization strategy, compared to just 31 percent of those that met revenue goals and 8 percent of those that missed revenue goals. This demonstrates that marketing personalization is crucial to surviving in today's competitive environment.
As the Monetate study illustrates, personalization is a key influencer of financial performance, which means that it's vital for retailers of all kinds to lay out and execute personalization strategies as soon as possible. To help create your strategy, I've laid out three tenets of personalization, each of which is essential in building the foundation for a successful strategy: Customer profiling, user flow, and data analysis. Follow these guidelines to create a complete personalization program:
1. Customer Profiling
Personalization is comprised of many things, but at its core, personalization is all about understanding the customer. Are they a millennial? A single mom? A single dad? A military family? A teacher? Each of these groups has various influences in their lives that impact their purchasing decisions, such as budget, travel, time, etc. The more you understand those influencers, the better you can personalize their experiences.
Start by creating customer profiles for each of your target demographics that addresses what may impact their decisions while shopping with your brand. You can do this through general online research, or by asking your customers directly. Present them with a few simple questions to answer in exchange for a special discount or reward on your site. The more information you can collect the better.
Once your profiles are developed, think about what content, products, and prices may be of interest to each. A February 2017 study from Kibo found that personalized home page promotions influenced 85 percent of consumers to buy while personalized shopping cart recommendations influenced 92 percent of shoppers online. Whether through exclusive promotions, marketing campaigns, or product recommendations, each tactic gives you another avenue to connect with customers on a personal level.
2. User flow and User Experience Mapping
A recent study that SheerID published in late 2016 found that 41 percent of consumers are most likely to abandon their shopping carts as a result of a frustrating checkout experience. 74 percent of customers feeling frustrated when website content is not personalized to them. To avoid frustration and cart abandonment, you should carefully consider where to place recommended products and how to deliver personalized deals.
To figure that out where you'll want to incorporate these personalized offers, map out your current user flow or experience from start to finish. Plug in where personalized content would make sense, such as recommendations on the same page as the cart, or special discounts dropping from the header. Whatever you choose, make sure that you aren't negatively impacting usability, efficiency, and simplicity. Ultimately, the key is to provide value, not frustration or added steps to the buyer throughout their entire shopping journey.
3. Data Analysis
One of the great benefits of e-commerce is the endless amount of usable, actionable data. Not only can you see what people are buying, how far they are scrolling, and what they are clicking on, but you can also tweak your strategy based on that information. Make sure you have a process and system in place to collect and analyze the data that allows you to see trends and make changes.
According to Accenture, 81 percent of consumers want brands to get to know them and understand when to approach and when not to approach with deals, specials, etc. Collecting and monitoring your website's data will help you better understand your customer, what they are looking for, and when to engage them.
Personalization doesn't have to be as complex as many make it out to be. By creating a foundation that addresses who your core audience is, evaluates their current shopping experience, and actively monitors for new trends and opportunities, you'll be in a much better place to grow, adapt, and change with the ever-shifting demands of today's market.