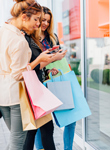 By Cheryl Sullivan
Let's face it – the retail industry is not known for its early adopter behavior in technology. The dizzying pace of change in retail today can leave retailers feeling as if the sands are shifting so rapidly that they must sprint just to keep up, much less take a proactive stance. Yet research shows definitively that those retailers who take a pre-emptive strike leveraging up-to-date technology gain the competitive advantage.
The pricing challenges facing retailers are well-documented: always-on shoppers who demand complete price transparency, aggressive competition across all channels from both entrenched and new market entrants, customers who demand personalized offers and deep discounts, and turbulent economic and political trends. So, how can retailers utilize technology to stay ahead of pricing challenges?
We recently collaborated with EKN Research to survey retailers and get early visibility into what 2017 will bring for the industry. Some of the predictions raise big red flags, but there are also encouraging areas of opportunity. We found that as 8 out of 10 Millennials rank price as the top influencer in their purchasing decision, retailers are responding by blindly matching competitive price changes and offering unseasonal price discounts and promotions. This drives a relentless and deadly race to the bottom where there are no long-term winners. There is very little understanding of what price changes and promotions truly drive results. In fact, large retailers define their top two challenges as (1) lack of actionable pricing and promotion analytics to drive profitable decisions and (2) inability to measure pricing or promotion effectiveness and financial impact.
Yet retailers have at their fingertips an unprecedented amount of data that can give them deep insights into competitive and customer behaviors. Today's software analytics can quickly key in on those prices and offers that truly matter to shoppers – and those that do not. Modern science enables highly granular insights into competitive and shopper elasticity down to the item-store level, leveraging machine learning to evolve as rapidly as market and customer behaviors are changing. Cloud-based access software programs allow retailers to rapidly gain access to leading-edge capabilities with fast ROI and without a lengthy, disruptive implementation cycle.
To remain competitive and relevant to the customer, retailers must act now to build strong pricing and promotion capabilities that leverage deep analytics to deliver responsive pricing, promotions, and markdowns in line with market demand, consumer elasticity, and competitive trends. With deeper and more agile analytical capabilities, retailers can more effectively segment their customers, offer targeted and localized prices that are relevant to shoppers, and leverage prescriptive science to automate optimal price updates and free their pricing teams to conduct more strategic scenario planning and analysis – across all channels.
Retailers who hesitate too long in adopting responsive merchandising and data-driven pricing and promotions risk rapidly falling behind their more innovative peers, and they risk losing their customer's attention when the array of shopping options grows broader by the day. Fortunately, retailers who make the bold step forward to adopting sophisticated analytics are rewarded not only with a more competitive business model but also with a solid and demonstrable ROI – one that is often measured in months, not years. While 2017 brings daunting challenges for retailers; it also brings unprecedented opportunities for innovation and success.