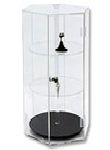 A critical question for many small business people with big dreams is: how do you take a bright idea that may start off in a garage or other less than ideal location, and grow it into a multi-million dollar company? For Michael Fried, founder of M. Fried Store Fixtures in Brooklyn, NY, who started a shelving company in his basement in 1991, the critical keys to success were quality products, a passion for customer service, and competitive pricing, says Michael Lebor, director of sales and marketing for the firm.
"When you furnish great customer service, along with great pricing and product, you get repeat customers," continues Lebor. "A retailer who opens their first store and is satisfied with us, will use our company again on their second, third and fourth stores. That is how we have been able to grow to where we are today. Beside M. Fried Store Fixtures, we recently acquired ABC Target, a store fixtures company that has been around since the 1940s, and we purchased the assets of a company called, Naythons Display Fixture Company, in Philadelphia."
M. Fried carries over 10,000 products in its line; virtually everything a retailer needs. Manufacturing these products domestically and through partnerships with factories in China, Taiwan and Mexico, the company is able to provide some of the lowest prices in the industry.  Further, with corporate offices in New York City and satellite offices and partner warehouses throughout the United States, M. Fried is able to provide retailers across the country with shorter transit times and quicker delivery; a critical factor in getting that retail outlet open and making money.
One of the greatest challenges for M. Fried today is exactly the same problem that has affected many of its retail customers: the economy. However, while volume and sales have dropped off for some, retailers who sell the basics have done quite well through this recessionary period. "We are all in the same boat," says Lebor.  "We cannot be successful unless the retailers are successful. Our largest and most successful product line is gondola shelving; the shelving you see in pharmacies and supermarkets. In the past couple of years, even during this recession, those two sectors have done quite well, and we have been able to leverage that."
In opening a new store, time is of the essence, which is one of M. Fried's strengths. "We are a stocking distributor, which means that we have items in stock," says Lebor. "The manufacturers typically have a three to four week lead time on fixture delivery. We have multi-million dollar inventory on hand, and if someone calls us today, we can ship tomorrow. We have five teams of installers and we know how to do it. We have design and layout professionals who can layout the entire store and help a dealer come up with a great retail plan. We have a showroom that our customers visit, which is also quite effective. Our success is a combination of all of these factors."
With a great website and catalogs, why would M. Fried customers want to take the time to trek to its showroom in Brooklyn? Says Lebor, "There are a couple of important reasons why a customer will come into our showroom. For one, many retailers want the fixtures now. Further, many dealers need more than a website or catalog to make a product selection. They need to touch the product to make sure that it is sturdy and stable, and will stand up in the retail environment. There is another reason as well. We have a talented staff on hand that is not only willing and able to answer questions about products, but also to share design and layout ideas and concepts, based on their many years in the business."
Even though M. Fried has thousands of products in stock and an experienced staff on hand, it continues to be focused on both its small and large customers. "We have had customers who want us to do just a little space, and then we have those who want us to design a 20,000 square foot retail floor," notes Lebor. "We appreciate our customers and their business, no matter what their size. We do not take anyone for granted. We value everyone from a small mom and pop store that places a $13 order, to the large national chain with a $130,000 order. It sounds mundane, but we treat every customer well, and that means getting the product on time as requested. We try to deliver great customer service every single day."
For more information:
Michael Lebor, director of sales and marketing
M. Fried Store Fixtures, Inc.
Customer Service Department
176 Flushing Avenue
Brooklyn, NY 11205
Toll Free: 877-544-2999
Website: www.mfried.com