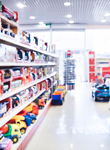 Toys "R" Us kids will officially be a generation of the past. In March, the company announced they will close or sell all of their 735 U.S. stores including Babies "R" Us locations. It is no secret that Toys "R" Us has struggled with debt for a long time. They filed for bankruptcy back in September, citing $5 billion in debt at the time. We even covered their comeback plot in Independent Retailer last fall. But, after an extremely disappointing holiday season, the retail conglomerate that used to monopolize the toy and children's market is closing.
These sudden but unsurprising closures leave the retail industry with a toy and baby store vacuum. Consumers still need these products as much as ever. And unlike other nationwide chain stores, Toys "R" Us has no direct competitor of a similar scale to automatically sweep up the consumer dollars. While big box stores such as Walmart and Target are certainly contending for former Toys "R" Us shoppers, it's not an easy win for them.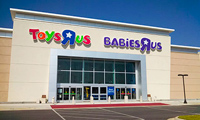 In the wake of this news, KB Toys announced their plans to "save the toy industry." Though now defunct, KB Toys once operated about 1,300 toy stores in the U.S before going out of business in 2009, when Toys "R" Us purchased the remains. In 2016, Strategic Marks LLC registered a trademark for KB Toys and following the Toys "R" Us closing announcement, publicized plans for an accelerated comeback, with stores opening by Christmas.
Strategic Marks president and CEO Ellia Kassoff said in a recent RetailWire discussion, "I think the name [KB Toys] WILL bring in tons of foot traffic initially, as moms and dads bring their kids in to share their experiences they had as kids. It's all about the experience and we will have great ways of delivering that to the customer."
For independent retailers, the brick and mortar toy industry shakeup is a prime opportunity to stake a larger claim in your communities as top gift and toy destinations. We talked to Bob Phibbs, CEO of the Retail Doctor, a New York consultancy for his tips on how retailers can position themselves for success in the changing toy market.
1. Bob's first piece of advice is: don't use Amazon as a scapegoat. "Amazon isn't going away," he says. Indie retailers are in a prime position to thrive, but only by taking the reins.
As Kassoff also mentioned in a RetailWire discussion "Toys are an impulse item. You can't turn to your crying kid and tell them you are going to buy the product online and they will get it in a few days." Parents appreciate the bonding experience of going to toy stores with their kids. Unlike other shopping, which can sometimes boil down to a tedious errand, toy shopping and toy stores are all about the experience, which can't be adequately replicated online or in a box store. With the right mindset, independent retailers are poised to provide a great experience within the toy and gift industry.
2. Once you've adopted the right mindset, Phibb's second piece of advice is to "take everything out of your store and clean, I mean really clean." Any element that is dusty, dirty, or dingy is an automatic turn-off for shoppers. This is also a good time to reevaluate your in-store technology. Do you have a cloud-based POS with modern reporting functions? "You must," says Bob.
After giving the inside of your store a good scrub, it is time to examine the outside. Bob says this includes repainting, fixing exterior lighting, and of course creating an exciting window display. Then, retailers should turn to their digital storefront. "Update your website with pictures, videos, and helpful articles, directions to your store – the works," says Bob. "You need a mailing list, email list, and energetic social media presence."
"You can't compete with Amazon and the rest," he continues, "But your own shopper should be able to shop from you any time they want, and be able to pick it up the next day. You have to have your business updated so when your Chamber of Commerce or Downtown Association offers workshops, you can participate and grow your retail sales."
3. Now that your store setup is impeccable, Bob says you have to "become strategic in creating an exceptional customer experience." He recommends focusing on your employees and training to ensure everyone is up to the challenge. "Anything else is delusional."