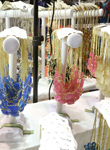 TransWorld Jewelry, Fashion & Accessories (JFA) Show will be held February 16th – 19th at the Donald E. Stephens Convention Center in Rosemont, IL. These cash and carry events are held five times a year. Don Olstinske, the show manager for TransWorld, tells Independent Retailer, "We strive to make each show different and unique. I'm always coming up with ways for buyers to see something different at each event and ways to make it fun."
The upcoming February show will be all about celebrating memories. More than 14,000 attendees "Will focus on the fun memories from over the holiday season, and how you can make new memories by attending our show," explains Olstinske. "We will have a free complete scrapbook package raffle as well as scrapbook supply giveaways with purchases from our exhibitors."
In addition to a fun experience, TransWorld offers thousands of fashionable products from 225 exhibitors. "Our buyers love this show because they can mix and match the pieces that work best for their stores without having to worry about order minimums," continues Olstinske. He also recommends buyers register in advance to take advantage of the online Buyers Resource Guide. The guide offers exhibitor information including contact information, websites, booth number, and products. Attendees can use this resource to plan out their trip and set up appointments with exhibitors.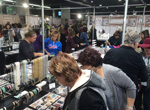 During the show, TransWorld provides unparalleled support to buyers. "We offer free third party appraisals for jewelry purchases of $300 or more," says Olstinske. "We also offer free services from our gemologist to verify fine jewelry purchases. Buyers should make sure to walk every aisle of the show, as at least 25 percent of our exhibitors are new at every show." Each show offers new products, new exhibitors, a different theme or contest, and most importantly professionals to certify your purchases and pricing.
In 2017, TransWorld will also host cash and carry fashion and accessory shows in April, July, October, and December. For registration information, visit www.jfashow.com.