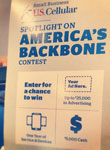 U.S. Cellular recognizes that small businesses represent a majority of America's workforce and play a key role in driving the U.S. economy. To celebrate and show its commitment to helping small businesses succeed, U.S. Cellular just launched the Spotlight on America's Backbone contest. As part of the contest, one small business owner within U.S. Cellular's footprint will win up to $25,000 in advertising, a year of wireless service and devices valued up to $9,000, and $5,000 cash. U.S. Small businesses can enter the contest through Sept. 1, 2013. Only businesses with fewer than 21 wireless lines and 100 employees are eligible.
Contest overview
The "Submission Phase," began July 15, 2013. During the Submission Phase, eligible contestants may enter a Submission by logging on to americasbackbone.com and following the on-screen prompts to register and upload a submission. A "Judging Phase," will begin September 2, 2013, and ends on September 30, 2013. During the Judging Phase, a panel of judges will review each submission to determine 15 potential finalists. An "Interview Phase" will begin October 1, 2013, during which time finalists will be interviewed by a second panel of judges to determine the one potential winner. The potential winner will be notified around November 15, 2013.
"Small businesses truly are the backbone of our nation's economy and they provide us with a variety of valuable products and services that we use every day," says Tom Catani, VP of business sales for U.S. Cellular. "At U.S. Cellular, we're proud to stand with small businesses, and this contest is our way of celebrating their contributions and letting them know we're here to serve them and help them grow."
U.S. Cellular has also partnered with columnist, author and small business owner Gene Marks, who is sharing his expertise with small business owners through a variety of educational events hosted by U.S. Cellular during the contest. "I'm thrilled to work with U.S. Cellular on this contest because, as a small business owner myself, I appreciate the potential impact it can have on a growing business," Marks states. "Small businesses increasingly rely on mobile technology to serve their customers, and one of the goals of this campaign is to help educate people on the best tools and resources for facing today's business challenges."
U.S. Cellular is also encouraging communities to support their local businesses by inviting people to share photos of their favorite small businesses on Twitter and Instagram using the hashtag #AmericasBackbone.
For more information about the Spotlight on America's Backbone contest, visit www.americasbackbone.com.
Watch the video to see what Spotlight on America's Backbone's first winner, Bickel's Cycling & Fitness, did with $5,000.