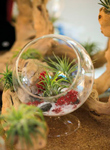 Unrooted Plants has a better way to liven up your environment. Instead of fussy houseplants that like to die, Unrooted Plants offers a line of air plants that are easy to maintain, beautiful, and almost endlessly customizable. The company specializes in mini-terrariums planted with air plants, including all kinds of tillandsia and other epiphytes.
Despite their exotic looks, air plants are not difficult to maintain. They are hardy plants that can survive in a wide range of temperatures, are not especially fussy about water requirements, and don't need a tremendous amount of sunlight to grow well. Better yet, because they are not rooted in soil, they can be easily mounted on branches and other decorative elements to create beautiful and interesting displays.
"Our products are perfect for gift shops, florists, kiosks, and festivals and fairs," says Lindsay Martin, sales and marketing director for Unrooted Plants. "They are an easy way to green up any space in the home, office or dorm, and require minimal care." Retailers interested in carrying Unrooted Plants have a number of options. They can create their own air plants, or buy a turnkey package from Unrooted Plants and allow end users to create their own globes and terrariums.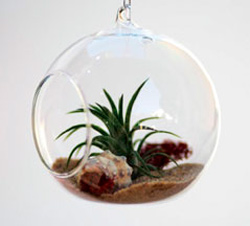 "Starter packages include not only the product to sell, but also display items such as a manznita tree and vases to hold sand, rocks, moss, etcetera," Martin advises. "Essentially, the packages come with everything a retailer needs to set up their display, and the customer creates and builds their own terrariums." Packages also include instructions on how to maintain the plants. For retailers who aren't interested in setting up a full display and allowing end customers to design their own terrariums, Unrooted Plants also offers finished terrariums for sale.
The air plants included are non-toxic for animals. For best growth, they should be watered semi-frequently, depending on your climate. In hotter, drier climates, the plants will require more water. Ideally, air plants should be placed within ten feet of a window, but should not get direct sunlight. Air plants will generally bloom once in their lives, and older plants will produce "pups" from the base of the mother plant that will grow into mature plants under good conditions.
Buying details
Unrooted Plants are available through the website or by phone, and turnkey retail packages run from $700 to $2,700, depending on the accessories. All packages may be customized by retailers, and they can expect a 400 percent markup. To qualify for wholesale pricing, a business license is required, and the initial minimum order is $300.