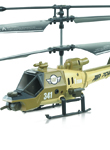 While operating Valour's remote controlled helicopters, boats, cars and tanks requires a level of maturity, these RC toys users customers of any age that youthful feeling. "We don't provide your run of the mill toy, and the products are affordable," says Hank Ho, sales and service manager. Over the past few years, the company's RC helicopters have generated growing demand from not only independent toy and hobby shops, but also from mall kiosks. Available in five size categories, ranging from eight inches to three feet in length, Valour's RC helicopters come affordably priced from $15 to $50 wholesale. Ho adds, "Our customers can easily enjoy a 200 to 300 percent markup," and with a new kiosk program in place, a significant markup isn't all that specialty retailers will enjoy.
Valour Launches Kiosk Program
For those retailers looking to run a larger cart business, Valour offers a program that provides access to top selling and high margin helicopters. These kiosk owners will be able to choose four small, three medium and three large helicopters from the selection, or a similar configuration. Those owners operating a smaller kiosk may be interested in a two small, two medium and one large helicopter configuration, as some carts are limited on space. If kiosk owners want to carry some of Valour's other RC toy lines, these purchases can be tacked on to the program package. "Also, if customers find that any inventory isn't moving they can contact us and we will work with them to resolve the problem," Ho adds.
Since their introduction, VieFly helicopters continue to be Valour's best selling RC product. In fact, the VieFly V268 has been a hit among Internet buyers, listed as one of Amazon's top ten products. "We're the exclusive distributor of the VieFly series," Ho says. "They're growing in popularity, as they have a very high quality control level." VieFlys are readily available to those kiosks interested in carrying the product line as part of their program package. While Valour's new program supplies a predetermined quantity, the company asks those retailers opting out of the program to place orders by the case. A case order of small helicopters (8 inches) holds 18 to 24 pieces, medium (12 to 15 inches) contains 8 to 12 helicopters, and large (23 to 30 inches) holds 3 to 6 pieces.
Valour's RC helicopters continue to evolve as the company works with larger designs that are more stable, durable and flexible. Among some of its latest products is a new VieFly line. Ho says, "The new line debuted at the end of July, and included the first ever 30 inch VieFly helicopters and mini designs." The company also expects to carry a new enhanced version of the popular V268, available in numerous colors and with the ability to combat one another. While Valour and its customers are looking forward to the release of its new RC helicopters, retailers are also invited to check out the company's weekly specials on the website, with deals on some of Valour's top RC products. And while it all sounds like fun and games, Ho did have one thing to add, saying, "Our products are for ages 14 and up. We include a safety feature on every helicopter, requiring the user to launch it from a flat surface and then sync up the remote control before the blades can start."
For more information:
The Valour Inc.
5650 Savoy Ln
Houston, TX 77036
Tel.: 713-781-1500
Fax: 713-781-1537
Email: service@valorsinc.com
Website: www.valorsinc.com