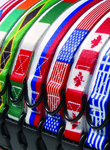 While a slight economic turnaround has had a positive effect on wholesalers of toys and novelties, other factors have allowed for growth in popular and playtime merchandise as well. Price points, trends and quality manufacturing all play a role in driving sales. Keeping your finger on the pulse of the industry can make all the difference, according to Novelty Poster, a wholesaler who has done well providing the products most demanded by children nationwide.
Toy and Novelty Suppliers Keeping Tabs on Trends
"Television advertising helps," says Jimmy Narine, vice president, indicating that "As Seen on TV" merchandise is always in demand. This includes products like Snuggie and Pillow Pets. Customers keep coming into stores and asking for items they've seen on TV, which leads store owners to ask Novelty Poster about them. That's how the Angry Bird plush toys found their home among the company's product lines. It first got wind of the trend as more and more people were downloading the well known smartphone and tablet game. "Customers then started calling us, asking if we had the characters available as toys. We made some calls and stocked up with everything we could get. It's the hottest item we've carried in 15 years," notes Narine.
Keeping up with other trendy products, Novelty Poster has come out with a new plush line called Happy Nappers, a plush stuffed animal and pillow all in one, with interactive housing. Appropriate for ages three and up, "children can use their imagination, sound the doorbell of each critter's home, take them out and play and return their pet back to its home for a good night's sleep," says Narine. Offered in six designs, customers can choose from the ladybug and her bungalow, the cow and its barn, the dragon and castle, as well as a dog, penguin and unicorn.
Soon to be a well recognized "As Seen on TV" item, Novelty Poster requires a minimum order of one case pack for Happy Nappers, which includes six of one animal. Retailers can purchase any design for $12 wholesale and retail for $19.99, as well as add on to their order a POP display valued at $6. And while gift, toy, card and department stores, and online retailers may want to carry the new product, Narine says, "We carry more than 150 different items, so we're sure to have something for everyone."
For Emirimage Corporation, keeping up with the latest trends in the RC toy industry means staying on top of technology advances and meeting quality standards. "The interactive characteristic of our toys is important," notes Emirimage president, Eduardo Perl. Retailers and their end customers are looking to buy cars, boats and in the past few years, helicopters that can perform different kinds of tricks and stunts, using technology that didn't previously exist. Perl says, "Our best sellers are those with gyroscopic features and video cameras, as well as those that have the capability to shoot fake missiles at a target." Emirimage's legwork at tradeshows and exhibitions to find the latest innovations results in the addition of a new product every month between April and August. "We already have 35 new items for our 2011 to 2012 selling season," says Perl.
Since there is such a wide variety of items offered, wholesale prices cover a broad spectrum, ranging from $8 to $100. Perl reports that many of his buyers are successful in obtaining a 300 percent markup on these prices. There is no fixed dollar minimum order, but buyers must order by the box, which either contain 12 or 24 pieces. "We recommend they order a certain amount, but this is because we are recommending a certain kind of assortment to have a good response from the final customers," says Perl. "Usually a standard customer is opening with no less than five to ten boxes of different styles, and then might be ordering weekly during the year, maybe five, six, seven boxes on average."
And while technology attracts novice flyers and pro hobbyists, Perl emphasizes that the company's focus on quality keeps customers coming back for more. "We have very high standards," he says. "We use our own trademarks and copyrights, design our own packaging, and of course we take care that all the inner components are of the best quality." Unlike its competitors, Emirimage follows all consumer protection agency rules, as well ASTM and other regulations.
Beginning in 1984, Galan Enterprises knew it had picked up on a hot trend with its ID card line. Now over two decades later, this novelty item continues to be a popular product with retailers looking for an impulse buy that provides a 300 percent markup. People's obsessions with characters, cultural icons and celebrities drives them to purchase and accessorize their lives with novelty items such as IDs that carry the image of Betty Boop, Abraham Lincoln, Elvis and more.
Selling for $0.95 wholesale and retailing for $3 to $5, Galan emphasizes the affordability of the ID cards. Speaking to the longevity of the product, he notes, "I have a large number of customers who have been carrying the line for 12 to 15 years, happy with the price, the quality, and always looking forward to new styles." The IDs, much like a license, are durable, laminated cards. Available in seven categories, including celebrity, political and western figures, retailers can purchase an assortment as long as they meet the minimum order of $100. According to Galan, "I like to work with small minimums, making the product available to any retailer big or small. The main goal is to let them see what a great product and hot item these IDs are, especially since customers will quite often buy more than one."
Galan Enterprises offers other Hollywood memorabilia and metal signs, which have become a close second in popularity. The IDs, however, have received so much recognition that even big name companies and brands have requested custom-made cards. With only a 300 piece minimum, any customer can order a custom made ID. "All I know is we are going to have one of our best years, and the market says they want more, so we are always adding new designs to our license line," says Galan.
According to Barbie Jordhoy of TriVesta Linens, today's hot items don't have to be new or "As Seen on TV," but rather they can be a reintroduction of an old time favorite such as the kendama toy. "Right now I only offer kendamas because it is such a popular item with all ages. It has become one of the hottest toys on the market," Jordhoy adds. And while our 21st Century is enjoying some playtime with this simple and interactive toy, they are also partaking in a piece of history. The kendama is from the 15th Century. "The English and French used to play a similar ball and cup game, and from there the Japanese came out with the toy many years ago," Jordhoy says. In today's world of toys with flashing lights, electronics and licensed characters, the kendama stands out with its simple design and creative new way to have fun. The wooden skill toy strengthens hand/eye coordination, balance and reflex. There are endless trick possibilities for both the beginner and the seasoned master. Tricks are done by variations of juggling the ball in the three cups, spiking the ball, and balancing in new creative ways.
TriVesta was first introduced to Kendama in 2006 while touring in Japan. When returning home with the product, everybody's enthusiasm inspired the wholesaler to sell the line and help introduce people from all over the world to this traditional skill toy, now a hot commodity. "The kendama is growing like wildfire, and the kids do not want just one. Some of them have as many as 59, one teenager told me," says Jordhoy. Retailers looking to stock their shelves to meet the demand must commit to at least a minimum of 12 kendamas, which can be shipped within 24 to 48 hours of purchase. Wholesaling for $10, retailers can easily make keystone at $20. "All I can say is that the old toys seem to come back around, including the sock monkey, the jack in the box, and now, the kendama," adds Jordhoy.
Keeping up with the latest trends, whether new inventions or old favorites, have helped some wholesalers in making record sales. Yet the recession affected everyone differently, and for some wholesalers adjusting and maintaining customer friendly price points was, and still is, key in making retailers and their end users happy. Michael Paniccia, VP of Group Sales, would agree. Group Sales is one of the nation's largest toy and gift distributors, serving all categories of retail stores, including drug, grocery, convenience, Internet, and travel centers, providing quality toys and gifts. "Our mission is to create a partnership between independent retailers and select manufacturers that allows the smaller retailers to be competitive with big box stores," Paniccia says, and this is done through competitive pricing.
As factories in China have been experiencing great difficulties controlling their costs and production, they have been forced to increase their minimum order requirements. This is virtually eliminating the option of importing for independent retailers. Yet these stores depend on imports to help in providing a greater selection of products. "Group Sales is acting as a conduit that can keep retailers stocked with a competitive and unique selection of products," notes Paniccia. "We specialize in selling the accounts that either struggle purchasing full containers of product from China, or retailers that do not buy overseas."
Group Sales' toys and gifts cover every age from birth through adults, as well as pets. Among the available product lines are NSI toys ranging from $2.95 to $27.95 wholesale, as well as PBS Kids and Kidz Delight, wholesaling $29.50 and below and $34 or less, respectively. "We do extraordinarily well with NSI's Smithsonian Collection, along with their other crafts such as the Rock Tumble and Pottery Wheel. The Kidz Delight line of preschool products also sells well, as it is not sold in large retail stores, enabling independent retailers to sell it as a unique item with good margins," mentions Paniccia.
Also focusing on a wide variety of merchandise, low prices and healthy margins is OKK Trading. With over 3,000 items in inventory, the toy importer and wholesaler continues to add to its product lines on a weekly basis. And while the company's toys end up in the hands of children in pre-school and up, they begin with OKK Trading's customers: dollar stores, 99 cent stores, discount and toy stores. Most products sell for a suggested retail price of $0.99 to $1.49, but according to William Hung, VP of sales, "We carry a large array of toys over $1 that are still affordable."
All in all, OKK toys meet a profit margin far above brand name toys. Wholesaling for about half the suggested retail, below $1, OKK's toys provide profits between 50 and 200 percent, "compared to just 15 to 25 percent for name brands such as Mattel, Hasbro, Fisher-Price or Lego," notes Hung. If browsing the website, customers are required to register with an email address in order to view wholesale pricing for each individual item. Hung adds, "Sales are wholesale only, with a $500 minimum." OKK Trading also promotes a five percent discount for new customers ordering online. Hung points out, "Retail customers want to buy toys today at low price points like $9.99, making it necessary to sell to retailers at low prices that will allow for high margins." But quality is also a key factor in the success of selling toys. OKK Trading boasts on its website, "Buy from us just once, and we guarantee you will be with us for years to come," backing up the claim with its high quality products and customer service.
Proven successful for toy distributors like OKK Trading, quality is also key when moving product in the novelty market. For Jorge and Mary Guiterrez, co-owners of PatriaPet, the quality of their products is important to both people and pets. Gutierrez, a dog lover from Colombia, wanted to create a product that would celebrate both his love for his dog and his national pride. He formed a business around the sale of collars and leashes decorated with national flags and colors. Gaining the attention of retailers, PatriaPet is supplying to independent pet boutiques and even a small flag shop, but Gutierrez believes his collars and leashes would be a perfect addition to any gift shop's inventory.
Collars come in three different sizes, large, medium and small, and are available in 24 national designs.  Leashes, offered in four foot and six foot lengths, are also available in the same flag designs as the collars, with the exception of three. "Maybe you may want to celebrate your Italian, Portuguese or Canadian heritage, or perhaps you want to celebrate your dog's heritage. PatriaPet collars and leashes are a fun way to do so. I know one owner who went to great lengths to get their dog from Germany, and felt a German flag collar was a useful keepsake to speak to the experience," says Guttierez.
While a starter kit in the form of a counter top display is available, PatriaPet also offers a floor spinner. Made from recycled plastics, the spinner is 60 inches tall and is available with a customized header. Retailers with orders over $375 dollars receive the display for free. "The display speaks to the quality of our products and showcases them in an attention grabbing way," notes Guttierez. It's people's reactions when seeing the product for the first time that make it worthwhile for Jorge and Mary. They know that people may be focused on the unique characteristics of the collars and leashes, but will later be thrilled by the quality and longevity of the product. "The collars are built to withstand wear and tear. Each has a five year guarantee from manufacturing defects, from the day you buy it," confirms Guttierez.
In the toys and novelties markets, wholesalers have found ways to keep their products moving, and retailers in turn are feeling the demand from consumers. Whether with trends, price points or quality workmanship, it takes strategy and planning to be successful. Following suit with the economic turnaround, toys and novelties have made a strong comeback.
For more information:
Novelty Poster
81 North Forest Ave.
Rockville Centre, NY 11570
Tel.: 516-561-1378
Toll Free: 800-648-4818
Fax: 516-561-3605
Website: www.noveltyposter.com
Emirimage Corporation
5269 NW 161 Street
Hialeah, FL 33014
Tel.: 786-287-1250
Fax: 305-628-3090
Email: sales@emirgroup.com
Website: http://www.emirimage.com
Galan Enterprises, Inc.
Tel.: 800-735-7757
Fax: 602-993-3377
Email: mail@galan.org
Website: www.galan.org
TriVesta Linens, LLC
224 Brown Industrial Pkwy, Ste. 106
Canton, GA 30115
Tel.: 770-345-4766
Fax: 888-856-9225
Email: sales@kendamasite.com
Website: www.kendamasite.com
Group Sales
Toll Free: 877-961-8697
Fax: 513-961-0888
Email: cburtner@groupsalesinc.com, lgoessling@groupsalesinc.com
Website: www.groupsalesinc.com
OKK Trading, Inc.
2721 E 45th St.
Vernon, CA 90058
Tel.: 323-725-8800
Toll Free: 877-OKK-TOYS
Fax: 323-725-8899
Email: info@okktyos.com
Website: www.okktoys.com
PatriaPet LLC
57 Gould St.
Clifton, NJ 07013
Toll Free: 800-738-6092
Email: service101@patriapet.com
Website: www.patriapetwholesale.com